Come out during your lunch hour, have some great food and help a great cause at the same time.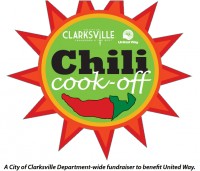 Clarksville, TN – The City of Clarksville is holding a Department-wide Chili Cook-off today in the lower parking lot at City Hall from 11:00am till 1:00pm. There is a $5.00 Per Person ticket price for spectators which includes Chili sampling and a drink. The Money raised is going to benefit the United Way. Prizes will be awarded for best side dish, and the best showmanship.
The competing teams consist of four members and must be city employees, or members of the Clarksville City Council.