APSU Women's Volleyball

Clarksville, TN – Austin Peay State University's volleyball team, second in the Ohio Valley Conference regular-season race with five matches remaining, prepares for its fourth home conference weekend when it hosts Jacksonville State in a 7:00pm, Friday contest followed by a 2:00pm, Saturday match against Tennessee Tech.
Friday's contest against Jacksonville State is the volleyball program's designated "Pack the Peay" night. The APSU Student-Athlete Advisory Committee sponsors the "Pack the Peay" event as an opportunity for all Austin Peay students to enjoy the various athletic contests throughout the academic year. Students attending Friday's volleyball match will have the opportunity to receive free food with their valid student identification card.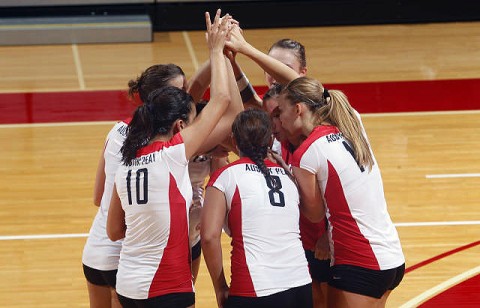 Austin Peay (18-6, 9-4 OVC) holds a one-match lead for second place entering the regular-season's final weeks. The Lady Govs have battled through the last seven matches – playing five five-set affairs, including splitting a pair against league-leading Morehead State. However, head coach Haley Janicek believes her team has improved in the latter stages of that seven-match run, despite key losses to Eastern Kentucky and Morehead State.
"I believe in the middle of the season we rode in the middle of the pack – we weren't getting any better and weren't getting any worse," Janicek said. "After this last weekend and especially in the match at Morehead (State), we got a lot better. We got a lot more consistent and were able to hold our composure in a really hard place to play like Morehead. Even though we lost, I thought we got a lot better."
The last seven matches have seen the Lady Govs trend towards a more balanced offensive attack with seven players averaging at least one kill per set. Among that group are two freshmen – Alex Sain and Lauren Henderson – who have seen increased playing time. Sain has 20 kills in the last seven matches while Henderson has 17 kills and eight blocks.
However, it is the duo of junior Ilyanna Hernandez and sophomore Nikki Doyle that continues to lead the offense with 96 and 90 kills, respectively. Junior Kayla Grantham has made strides as the season has progressed and recorded 56 kills during the seven-match stretch. Seniors Jessica Mollman and Taylor Skinner have held down the middle of the front line, recording 16 and 19 blocks, respectively.
"We've been doing some different things offensively," said Janicek. "We tried a 6-2 set and that has been working for us. I believe we still have some kinks to figure out, but it allowed us to get productivity from everybody on the court. If we can fix some of the problems in the system I believe it will help us."
This weekend's task will prove a formidable one as Austin Peay will face two teams that have traditionally been its toughest foes. Jacksonville State (12-10, 7-4 OVC) sits in fourth place, two wins behind the Lady Govs. However, the Gamecocks have won the last three matches in the series – each of the three going to five sets. Austin Peay has won the last three meetings with Tennessee Tech (6-16, 4-7 OVC), but that is only a recent trend as APSU has won only four of the last 11 meetings between the two teams.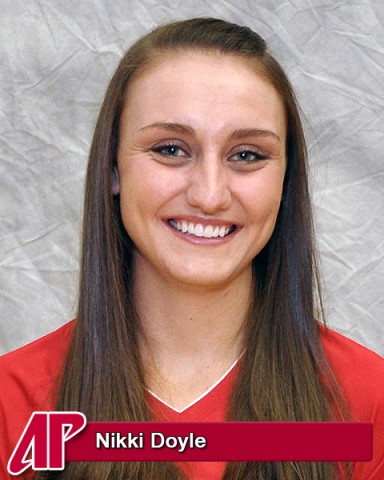 "I'm really looking forward to playing at home again against Jacksonville State," Janicek said. "They are a really good team that we enjoy playing against. And (Tennessee) Tech is a team that has gotten better in the second half of the season. Both teams are going to be a good challenge for us. If we can keep getting better where we're peaking at the end of the season – that is more important for us."
With five OVC matches remaining, the Lady Govs seek to remain among the league's top two teams, which receive a bye into the semifinal round of the OVC Volleyball Championship. However, while that finish may be a goal, Janicek does not want her team losing focus of the bigger picture.
"I would like a second-place finish for the bye only," said Janicek. "I'm not too worried about where we finish, it's the tournament that matters. I believe if the team focuses too much on the finish then everything else will fade away. It's the other things that are important – getting better everyday, timeliness, consistency. I don't want them focusing too much on second place; I want them focusing on getting better and the result will follow."