APSU Women's Soccer

Clarksville, TN – Austin Peay State University women's soccer team kicks off the 2010 Ohio Valley Conference Soccer Championship when the No. 3-seeded Lady Govs face No. 6 Murray State in a 7:00pm (CST), Thursday match at Morehead State.
The winner will advance to face No. 2 Southeast Missouri in a Friday contest. On the other side of the bracket, No. 4 Eastern Illinois faces No. 5 Eastern Kentucky at 5:00pm, Thursday. The winner of that contest will face No. 1 seed and host Morehead State, Friday.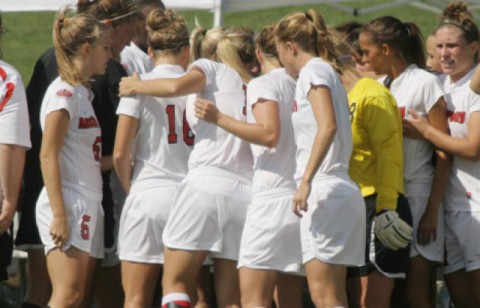 Austin Peay is riding high into tournament play, not only due to a three-game winning streak, but also after seeing Tatiana Ariza named OVC Freshman of the Year, while Natalia Ariza was named first-team All-OVC and Joceline Quiceno selected to the second team. That validation is fuel to the fire for a Lady Govs team that is starting to regain some of its early-season momentum.
"We're excited to get going in the tournament," head coach Kelley Guth said. "We feel like this is a good matchup for us. We also feel like we're a better team now than we were when we played at Murray. I think we're doing things more efficiently, I think we're more dangerous right now. I'm looking forward to seeing our team continue that during the tournament."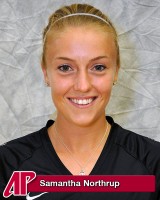 The Lady Govs defense has been tough all season, despite suffering a number of injuries throughout the season. Most recently it was freshman outside back Corey Osborne going down with a knee injury, forcing more changes in a back line that has continued to hold strong. Freshman Emily Kink, who played forward up until last week, has shifted to Osborne's spot.
Seniors Samantha Northrup and Hannah Jones continue to anchor the Lady Govs back line. Jones is the only remaining defender from the opening game, as Northrup transitioned from the midfield where she had played throughout her first three years. Another constant has been senior keeper Carley Newman, who has seven shutouts to her credit this season. She also has 48 saves, while allowing only eight goals in 19 games.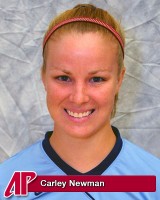 The matchup with Murray State doesn't lack for a rivalry or a story line. The season matchup, in Murray, KY, ended in a double-overtime scoreless tie. Austin Peay entered the match on a two-game streak without a goal, but seemingly untracked its offense to outshoot the Racers 21-9. Murray State keeper Tara Isbell made eight saves in the game, including seven in the second half.
Murray State is led by first-team All-OVC pick Sophie Hargreaves and second-team All-OVC selection Danielle McMurray in the midfield. Freshman Shauna Wicker, also a midfielder, was named to the All-Newcomer team. Hargreaves has a team-best six goals and three assists. As a team, the Racers have been outshot 312-226 on the season.
"We're not going to try and change anything," Guth said. "We have to focus on playing our game and doing the things we've done all year; doing them the best we can and executing to the best of our ability. We have to make sure we come out and play a complete game."