APSU Women's Soccer

Clarksville, TN – Tatiana Ariza was named the Ohio Valley Conference Freshman of the Year to highlight Austin Peay State University's women soccer team's postseason awards. Tatiana also was joined by her sister freshman Natalia Ariza as first-team All-OVC selections, while fellow freshman midfielder Joceline Quiceno was a second-team All-OVC pick. All three were named to the league's All-Newcomer team.
Heading into the 2010 season, head coach Kelley Guth knew that her program's success hinged on a number of freshmen being able to contribute immediately. Expectations were exceeded with three Lady Govs freshmen earning postseason recognition, the most in program history.
As the first Lady Govs player ever to earn OVC Freshman of the Year honors, Tatiana Ariza parlayed her international soccer experience perfectly into a record-setting freshman campaign. She scored the game-winner in her first collegiate game against Western Illinois and her next three goals also would come in clutch situations. With the OVC Tournament remaining, Tatiana leads the Lady Govs with nine goals, while also posting four assists.
"Tatiana is a special player," Guth said. "Her technical ability, quickness and athleticism make her a very dangerous player offensively. She's played at a high level and has been in high-pressure situations, so even as a freshman, she's able to play with a lot of composure. She has a way of coming through in goal-scoring situations and she's put away a number of game-winning goals."
Tatiana Ariza is without question the most dynamic offensive player in the Lady Govs soccer annals. Her nine goals are the second-best single-season tally and the most ever scored by a freshman. Even more impressive is the fact six of her nine goals came as game-winners and three came against OVC opponents. She placed 34 of her team-leading 58 shots on goal, for an astounding .586 shots-on-goal percentage and a single-season high 2.00 shots-on-goal per game average.
"She's had a tremendous year and made a great impact," Guth said. "You need to have finishers on your team and she's a player that can put the ball in the back of the net."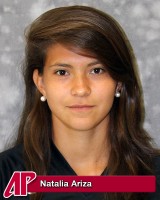 Natalia Ariza joined her sister Tatiana in not missing a beat with the Lady Govs. She finished third on the time with 11 points, scoring four goals and recording three assists. Playing in the midfield, Natalia was able to develop a flow with Joceline Quiceno, senior Michelle Johnson and sophomore Jocelyn Murdoch in order to improve the Lady Govs from a struggling offensive team in 2009, to lead the OVC in team shots (319), points (87) and goals (32) a year later.
"One of the major changes on her team from last year to this year was how effective we were attacking out of the midfield," Guth said. "That's a result of the talent we had at those positions, in both Natalia and Joceline Quiceno. The combination we've had in the midfield has been really great. There's a lot of chemistry there."
When the Lady Govs were hit by injuries and the offense seemed to stutter, it was Natalia who stepped into the limelight. Two of her four goals came in the season's final two games, helping to produce a three-game win streak heading into the OVC tournament.
"Statistically through the year," Guth said, "Natalia's numbers didn't match those of Tatiana, but she played a much different role. A large factor in our success this year has come from the problems she has created for our opponents in the midfield. She's a dangerous player and a good distributer."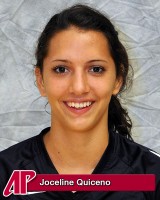 Joceline Quiceno, a second-team All-OVC pick, also was a key cog in the Lady Govs midfield, finishing with two goals and four assists. Her impact was immediate, as she posted a goal and an assist in her first collegiate game at VMI to open the season. Quiceno's 45 shots were second-best on the team behind Taiana Ariza and her four assists tied for fourth-best in the OVC.
"Joceline is a player with a lot of potential," Guth said. "She's very good coming out of the midfield and attacking. She's created a number of our goals and been indirectly involved with a number of goals as well."
This marks the sixth season for the OVC to select an All-Newcomer team with the Lady Govs having a player named each time. However, this is the first season for the Lady Govs to have three All-Newcomer selections. It also is the first season for the Lady Govs to have two players named first-team All-OVC.