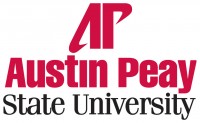 Clarksville, TN – For Nannie Mae Wooten, education was the key that could unlock many doors for a student.
She advocated that philosophy to those enrolled at Austin Peay State University, where she worked as a leading member of the housekeeping staff from January 1st, 1959, until her retirement in February 1980. A strong proponent of education, she was just as instrumental in her seven children – Frank Jr., Onie, Linda, Brenda, Mariah, James Michael and Janet – continuing their higher education goals beyond high school.
"She kept saying to us, we could do anything," her daughter and APSU alumna, Linda Roberts ('89), of Clarksville, said. "She wouldn't allow any of us or anyone for that matter to give up."
One APSU student in particular, Joe Greer, worked with Wooten, helping her to clean Clement Hall. During that time, she encouraged him to study hard to achieve his degree.
He never forgot Wooten's motherly persistence. Years later, now a successful dentist in Memphis, Greer learned through his involvement with the APSU National Alumni Association that Wooten had encouraged many other students on campus.
Roberts, too, can recall the interactions her mother had with students on the campus.
"I remember going to work with her in the mornings then walk to Burt (High School) for school," she said. "I remember some of the students. They all had stories. They all loved Mama."
After realizing that so many benefitted from her kindness, Greer launched the Nannie Mae Wooten Memorial Scholarship in 1998 to continue her legacy of encouraging students. Wooten died in 1981, never seeing the tribute Greer began in her honor.
In 2004, the Wooten family learned of Greer's amazing tribute and decided that Christmas to began contributing to the scholarship as a way of helping to build the scholarship fund.
It's now a holiday tradition that Roberts and her brothers and sisters honor their mother by contributing to the scholarship fund, which now has reached endowment status. This means that the Nannie Mae Wooten Memorial Scholarship will begin awarding in January 2011.
The scholarship is a one-time annual award of $1,000 ($500 per semester) given to an incoming freshman.
To be eligible for the scholarship, an applicant must be of African-American descent, have a minimum grade-point average of 2.85 with an ACT score of 21 or greater and must show financial need. Applicants also must write an essay showing why the scholarship is important to them and how it will influence their lives.
It has taken time to build the fund – and patience, an attribute Wooten always showed while tending to her garden or sewing, her favorite pastimes, and to the students she met at APSU. Education requires patience, too, and because of the value Wooten placed on education, her memory will be celebrated and protected by the integrity of the scholarship.
"My mother would be today very proud," Roberts said.
For more information about the Nannie Mae Wooten Memorial Scholarship, or to contribute to the endowment fund, call the APSU Office of University Advancement, 931-221-7127.
Sections
Education
Topics
APSU, APSU National Alumni Association, APSU Office of University Advancement, Austin Peay State University, Clement Hall, Joe Greer, Nannie Mae Wooten, Nannie Mae Wooten Memorial Scholarship, scholarship