Written by U.S. Air Force Capt. Peter Shinn
734th Agribusiness Development Team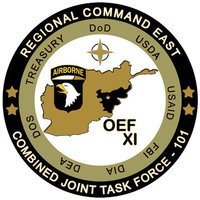 Kunar Province, Afghanistan – More than 100 village elders from across the Narang District here took their first tentative steps toward securing their own communities when they came together at the district center November 2nd for a security and development shura.

The only concrete agreement to come from the shura was a decision to continue security talks, but all participants agreed on the importance of improving security in their district.

District Sub-Gov. Haji Gulam Nabi organized the shura in cooperation with the 101st Airborne Division's Task Force No Slack, commanded by U.S. Army Lt. Col. Joel Vowell of Birmingham, AL.

Vowell was the only American to address the shura. He explained that recent operations by the Afghan National Army and coalition forces had largely cleared insurgents from Narang District, creating conditions that local Afghans could capitalize on.

"There's a lot of security issues in the district, but there's lots of opportunities to get better very rapidly, and that's what the shura is designed to do," Vowell said. "The district governor, Haji Gulam Nabi, wants to bring all the village elders to the table and have a discussion about responsibility, accountability and security, and the way ahead."
Nabi understands the security situation in Narang District intimately. Insurgents have already abducted him once. Nabi credited his tribe, and Allah, for intervening with his kidnappers, who released him. However, Nabi expressed a bigger vision of security than his own personal safety.
"The shura is to build security, to bring security to our district and stop our enemies coming in," Nabi said. "This will help us plan projects for the future, construction projects, and create jobs for the people. It will also bring the people of all the tribes together so they can work for the common good."
Afghan National Army Lt. Col. Sher Mohammed, who commands the 6th Kandak, 2nd Brigade of the 201st ANA, also addressed the village elders. He pointed out the Afghan people have a critical role to play in their own security, and he praised the Narang District shura.
"This shura is outstanding; every district should have one just like this," said Mohammed. "Afghanistan has many problems, and some problems that can't be solved by the government can be solved through shuras like these."
In addition to TF No Slack personnel, members of the Iowa National Guard's 734th Agribusiness Development Team also attended the shura. ADT commander U.S. Army Col. Craig Bargfrede of Ankeny, Iowa, described the ADT as an incentive for the village elders to make further progress on security.
"The officials and village elders of Narang District want the kinds of things we can do for them, like watershed projects and veterinary outreach programs, among others," Bargfrede said. "We can do a lot more work, and a lot more effective work, in areas we don't have to fight our way in and out of."
Sections
News
Topics
101st Airborne Division, Afghan National Army, Afghanistan, Haji Gulam Nabi, Insurgents, Joel Vowell, Kunar Province, Narang District, Peter Shinn, Regional Command East, Sher Mohammed, Task Force No Slack