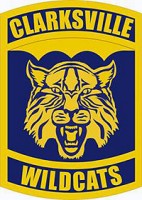 Clarksville, TN – The Clarksville High School Theatre opens its 2010-11 theatre season tonight with Margaret Edson's powerful play WIT. This year, director Barbara Wesner has chosen a mature, moving drama that chronicles and celebrates the life of Vivian Bearing, a noted English professor of the seventeenth-century metaphysical poet John Donne.
At the rise of the play, Bearing steps to the edge of the stage and informs the audience that she has been diagnosed with stage 4 metastatic ovarian cancer. She continues by saying, "It is not my intention to give away the plot, but I think I die at the end. They've given me less than two hours."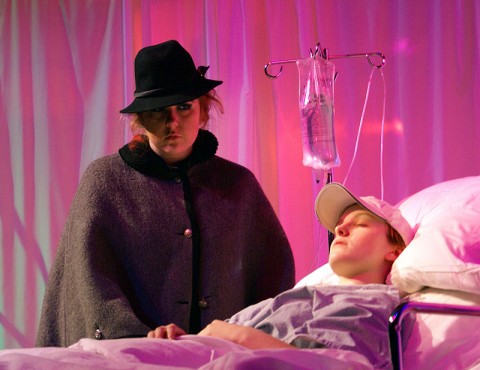 The ensuing 90 minutes chart Vivian's journey toward her ultimate end—not with a sappy, maudlin display of emotion, but with a victorious, insightful look at her own life, death, and immorality. Wesner's design concept infuses pre-recorded and live video sequences with live theatre, resulting in a dynamic and unique theatre experience.  
Wesner, in collaboration with her scenic and lighting designer husband David and senior student video and technology designer Shane Martin, has created an intricate set consisting of a maze of polysilk 10-foot curtain panels that replicate the wards and rooms of an oncology hospital.  The play opens with two curtains being drawn back, exposing the inner chambers of the hospital and representing the inner recesses of Vivian's mind, memories, and her private wonderings and fears. Three projection screens, suspended high above the massive set, display Vivian's thoughts, memories, and struggles.  Three live-feed video cameras also offer close up views of the on-stage action.   
Grace Mason, senior theatre student who is preparing to attend Belmont University next year as a theatre major, is playing the demanding role of Vivian Bearing.  The cast is rounded out by supporting roles handled by Rain Dartt, Jonathan Shipley, Ally Campbell, Samantha Bagwell, and Luke Johnson.  Wesner's concept of the show demands that all crew members be costumed as interns, nurses, doctors, and medical technicians. These students move curtains, furniture (all on wheels), props, and tackle all the minor roles in the production.  Members of the running crew include Joanna Patmore, Heath Ziebell, Jennifer Price, Bailey Graven, Aaron Robinson, Shaoyun Yang, Joseph Yang, Clayton Riggins, and Kelly VanBrundt.  
Production Dates are November 9th-13th, 2010. Curtain is at 7:00pm nightly. Tickets are $5.00 each and may be purchased at the door.