APSU Men's Basketball

St. Louis, MO –  Two teams in transition will open the season, 7:30pm, Friday, when Austin Peay State University heads to Chaifetz Arena to battle St. Louis University.
Austin Peay is coming off a 17-15 season that saw the Governors incur a crushing opening-round Ohio Valley Conference tournament home loss to Tennessee Tech. Eight new faces (seven recruits and one walk-on) dot the roster, including three junior college transfers, to pair with six returnees, including preseason All-OVC selection Anthony Campbell (15.5 ppg, 5.3 rpg) along with junior center John Fraley (9.2 ppg, 7.8 rpg), the league's second-leading rebounder a year ago.
"Our challenge is to bring that all together," said APSU coach Dave Loos, a St. Louis native. "We think our newcomers are certainly promising. On the flip side, we've got six returning players that all played significant minutes."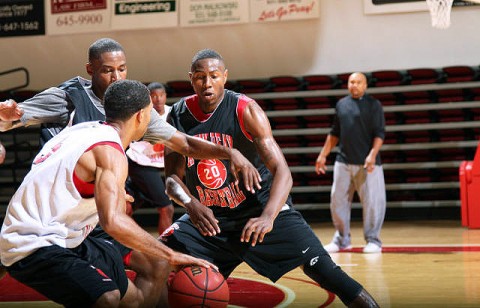 One thing for sure, the Governors appear much deeper than the 2009-10 club. Two–forward Melvin Baker and guard Josh Terry–of the three junior college transfers already have worked their way into the starting lineup while a the third, guard Tyshwan Edmondson, was the Govs' co-leading scorer off the bench against Westminster.
Meanwhile, St. Louis is coming an an impressive 23-13 2009-10 campaign that saw the Billikens fashion an 11-5 Atlantic 10 record. This is the fourth season of the much-respected Rick Majerus building program at St. Louis.
However, during the offseason two key starters, center Willie Reed, Jr., (12.4 ppg, 7.9 rpg) and guard Kwamain Mitchell (15.9 ppg), the team's leading scorer a year ago, were dismissed from school.
For most programs such losses would be crippling. For St. Louis it appears to be a bump in the road as the Billikens still were picked to finish sixth in the competitive A-10.
Sophomore forward Cody Ellis (Perth, Australia/Institute of Sport) was named to the Atlantic 10 Conference's preseason All-Conference third team, while freshman forward Rob Loe (Auckland, New Zealand/Westlake) was selected for the league's All-Rookie team.
Ellis joined the Billikens in January last season, making an immediate impact, averaging 10.5 ppg and 4.9 rpg while earning Atlantic 10 All-Rookie honors.
Majerus has posted a 57-42 Billikens slate. He has a 23-year career 479-189 mark and has taken 11 teams to the NCAA Tournament and four to the NIT.
Governors Pardon
This is Austin Peay's 79th season of basketball.
Dave Loos, APSU's all-time winningest basketball coach, also is the OVC's all-time wins leader with 331 victories. He also has 413 career coaching wins.
The Dave Aaron Arena playing floor was named Dave Loos Court, Summer 2007.
Since 1993-94, Austin Peay has finished no worse than fifth in the OVC race.
Austin Peay has reached at least the OVC tournament semifinals in 12 of the last 16 years.
What You Should Know
The Series: This is the third meeting between Austin Peay, a member of the Ohio Valley Conference, and St. Louis, a member of the Atlantic 10. Austin Peay is 1-1 in the series. This is APSU's first game against the Billikens since the 2004-05 season when the Governors claimed a 52-45 overtime decision in first-round action of the Paradise Jam. The two teams' other meeting came in 00-01 season where APSU fell, 98-65. The first matchup came in the 1994-95 season as the Governors lost, 71-54, to a Charlie Spoonhour-coached team in St. Louis at what was then known as Kiel Arena. This is the first meeing in the 10,600-seat Chaifetz Arena, on-campus home of St. Louis since the 2008-09 season.
Next Game
6:00pm, Monday, November 15th McKenzie Arena, Chattanooga, TN.
Austin Peay will head to Chattanooga, 6:00pm, (CST), Monday to play Tennessee at Chattanooga. Like the Govs, the Mocs open play Friday night against Tennessee. UTC is coming off a disappointing 15-18 campaign. The Mocs backcourt figures to be strong, buoyed by the return of 6-5 guard Ricky Taylor (11.4 ppg) along with point guard Keegan Bell (7.6 ppg, 4.8 apg), the former Vanderbilt performer. Also returning up from is 7-1 senior center Jeremy Saffore (6.0 ppg, 3.3 rpg).