APSU Women's Volleyball

Clarksville, TN – Two matches are all that remain as Austin Peay State University's volleyball team wraps up the regular-season portion of its schedule. The Lady Govs first close out their Ohio Valley Conference slate with a 7:00pm, Friday contest against Tennessee State. Austin Peay then wraps up regular-season action with a 5:00pm, Saturday non-conference affair against SIU Edwardsville.
Austin Peay (22-6, 13-4 OVC) enters the final weekend assured of its spot in the upcoming Ohio Valley Conference tournament, locking up the second seed with last weekend's two victories.
This weekend isn't without meaning as it will be the final home matches for seniors Sarah Alisaleh, Jessica Mollmann and Taylor Skinner. The trio will be recognized prior to the start of Friday's match. 
Entering this weekend's matches that trio has combined for 74 victories during their careers.
"This week has been a challenge (to maintain the team's focus)," said Lady Govs head coach Haley Janicek. "I believe it's going to be a little easier Friday (to focus) because it is senior night. They'll be able to focus on being together and in our home gym for the last time, especially for our seniors."
Janicek also believes this weekend's matches will provide an opportunity for her team to maintain its progress towards its goal of improving every time it steps on the court.
"I think consistency is key," said Janicek. "We've been talking about it as a team and this weekend is one of the last few pieces of our puzzle. We have to play well this weekend. We have to get better this weekend. So you can call it fine-tuning or anything that you want. Our number one focus is to take this as an opportunity to get better."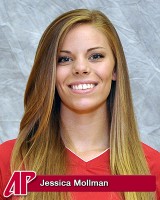 Tennessee State (9-15, 7-10 OVC) visits the Dunn Center needing a victory to remain alive for next week's OVC Tournament. The Tigers sit one-half game behind Eastern Illinois and Tennessee Tech who are both tied for the sixth – and final – spot in the tournament. Senior Santia Sanders has been on a tear recently, winning OVC Offensive Player of the Week each of the last two weeks. She recorded an impressive 28 kills and 19 digs in a five-set victory at Southeast Missouri one week ago.
SIU Edwardsville (13-14), a future OVC opponent, visits Clarksville as a non-conference foe. The Panthers won a four-set decision at Western Illinois, Wednesday, ending a four-match losing streak. In that contest, Julia Whitfield set a career-high with 24 of her team's 58 kills.
"Throughout the season the typical trend is when we service aggressively and can get a team out of their offensive system then they struggle to put up a solid attack," Janicek said. "If you look at our match last weekend at Eastern Illionis we served fairly easy in the first set and they beat us. But in the last three sets we served rockets and won because they couldn't get into system. Tennessee State is an incredibly athletic and gifted team when they're in system. SIU Edwardsville has proven they can win against our conference teams. The question will be can we get them out of their system. If we do, I like our chances in both matches."
Sections
Sports
Topics
APSU, APSU Women's Volleyball, Austin Peay State University, Dunn Center, Haley Janicek, Jessica Mollmann, Lady Govs, Ohio Valley Conference, OVC, Sarah alisaleh, SIU Edwardsville, Taylor Skinner, Tennessee State