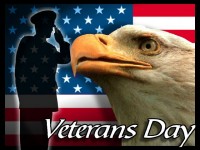 While we honor our Veterans, both past and present and the sacrifices that many of these heroes made on battlegrounds around the world – some small and seemingly insignificant to the unforgettable and pivotal. It is certainly a very small token of our gratitude as a Nation – after all they are the reason we live in this great country this very day. All that said, I hope that you will indulge me and allow me to divert attention on this day from our Veterans to some of our unsung heroes – some would say the real heroes and in many respects they would be right.
I would like to take a moment to honor the Families of our Veterans. To the Wives, Husbands, Mothers, Fathers, Daughters and Sons I salute you, I honor you for your sacrifice to this nation. For without you to support, to love, to understand and to pray for your Soldier, Sailor, Airman or Marine many would have laid down their weapon and chose another path. Many years back, the Military finally saw the importance of the Family – they understood that without the Family, there was no continuity and without the continuity there was no cohesion.
A great man once said, "we enlist Soldiers, but we re-enlist Families". This is so very true. While it is certainly difficult for our heroes who are in harm's way in far away lands, it is equally difficult for the Family that is left behind, not knowing every second, minute, day, week, month until their loved one comes home.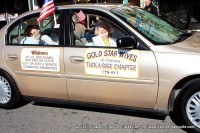 Stronger yet are our Gold Star Families, our Families of the Fallen. I have had the honor to have been in their presence on many occasion. Their strength, their compassion for one another and their determination to continue on is nothing short of astonishing. Words simply cannot express the heartfelt appreciation that I and many of my comrades have for these Families.
As a Soldier, one of the biggest fears that I had was not of leaving this earth, but rather of leaving my Family. I have stood, with tears streaming as I participated in or attended many Memorials and Funerals of my comrades and friends. The Parents – no parent wants to bury their child – they want to watch them grow as a person, to find love, to raise a Family and chase their dreams. The children – their pain and need to understand what's going on is what rips you apart and certainly makes you question why. The widow, trying desperately to hold it together, and you – a friend – a Soldier desperately trying to find some words of comfort – some way to make the pain and sorrow disappear from a Family that you know and love.
Today, when you think of our Veterans, please think of the Families and realize that their sacrifice is equal in many respects to that of our Veterans.
God Bless our Soldiers, their Families and this great Nation!