Clarksville, TN – Detective Demone Chestnut received a DCS referral on March 29th, 2010  about possible sexual abuse of a male child by Barry McCoy which occurred sometime between January-March 2010.
McCoy was a foster parent and also employed at WEEMS Academy as a teacher's aide when the incidents occurred.
It was alleged the abuse occurred on more than one occasion and in McCoy's home while the child was visiting the home. McCoy would babysit the child while the mother was at work.

During the course of the investigation and while conducting interviews, Detective Chestnut received corroborating information that supported the allegation of rape of a child.
Barry McCoy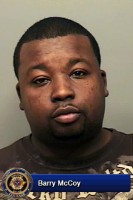 Name: Barry Demory McCoy (B/M)
DOB: 7/27/80,
Given Address: 108 Delaware Drive, Clarksville TN
Served: With an indictment for Seven Counts of Rape of a Child.
Booked into: The Montgomery County Jail on November 11th, 2010.
Bond: $75,000.
Detective Demone Chestnut is the lead investigator, 931-648-0656, or the TIPSLINE, 931-645-8477.
Sections
News
Topics
Bond, Clarksville Police Department, CPD, Demone Chestnut, Montgomery County jail, Rape of a Child