Governors come up big to pull out late win against St. Louis
APSU Men's Basketball

St. Louis, MO – Tyshwan Edmondson knocked down a pair of free throws with 4.2 seconds left and fellow newcomer Josh Terry came up with a steal with less than two seconds remaining as Austin Peay State University defeated St. Louis, 64-62, Friday night in the season opening basketball game for both teams.
It was an impressive opener for the Governors against an Atlantic 10 opponent that is picked sixth in the 14-team league.
Melvin Baker, a junior college product like Edmondson and Terry, set up the game-winning play by blocking a shot by Christain Salecich with 17 seconds left. Baker also grabbed the rebound.
Terry, in his first Division I game, led the Govs with 18 points on 7-of-9 shooting while Edmondson, also in his first Division I contest, added 17 on 6-of-9 shooting.
Austin Peay dominated action much of the first half, leading by as much as eight points on two occasions (26-18 and 31-23), but foul troubles by Baker, Terry and Edmondson slowed the Govs offensively, but APSU still took a 36-32 lead into intermission on 53.6 percent shooting (14 of 26), largely because the bench's significant production.
But it was St. Louis who took control early in the second half. Less than five minutes into the half, the Billikens tied the game at 40 all before bursting out to a 54-46 advantage with 10:31 left behind Kyle Cassity and Jordair Jett.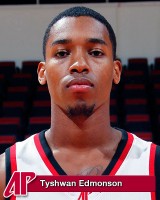 But the Governors regrouped and Edmondson, who came off the bench in the opener, scored six straight points and then Terry hit two free throws to tie it at 54 with 7:43 remaining.
The margin never was larger than four points the game's remainder as St. Louis led 58-54 with 5:44 remaining before the Govs took a 61-58 advantage on a Terry layup with 2:08 left.
But Cassity answered again to make it a one-point game before Baker hit one of two free throws to push it back to two. But Cassity again drove through the Govs defense to tie the game with 57 seconds left.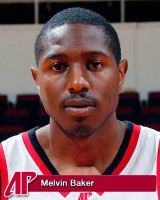 However, Austin Peay was called for an inbounds violation to give the ball right back to the Billikens. But Edmondson was able to get a finger on a loose ball and John Fraley was able to come away with the steal.
But the Govs could not take advantage themselves as Salecich came up with a steal in the Govs end with 20 seconds left. He elected to take it the length of the floor and as he went to the basket Baker perfectly timed his leap to block the shot before then grabbing the equally-important rebound.
The Govs called timeout and attempted to set up a play. With the clocking winding down Salecich challenged Edmondson defensively well away from the basket. A foul was called and Edmondson calmly sank both free throws.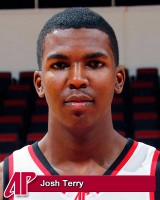 Then it was up to Terry to reach in and snatch away Cassity's dribble before the clock ran out.
The Governors finished the night shooting 47.7 percent (21 of 44) from the floor, including three-of-six from the three-point line, along with 19 of-27 from the free-throw line (70.4 percent). The Governors outrebounded by the Billikens by a 32-23 margin, led by Fraley's seven.
The Govs will return to action, 6:00pm, Monday, at Chattanooga.