Clarksville, TN – A 22 year old was arrested and booked into the Montgomery County Jail after leaving his three year old son home alone while he went drinking. On November 13th, around 12:31am, officers responded to a 911 call in which a neighbor found a three year old outside near the road and crying for his mother. 
When officers arrived they found the child inside his residence sleeping on a couch; the door was wide open and loud music was playing. When Office Dennis Honholt spoke to the child, the three year old had difficulty staying awake. Officer Honholt asked the three year old where his parents were, the child merely pointed toward the front door. By that time, other officers arrived on the scene and set about the task of trying to locate the three year olds parents.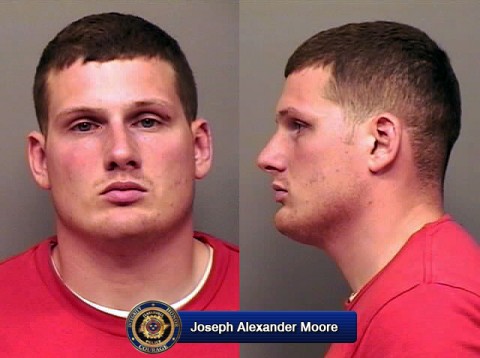 After approximately one hour, the child's father, Joseph Moore, was seen approaching in his pickup. He did not immediately stop at the residence. But, Moore did show up about ten minutes later at the residence on foot. When he arrived, officers could detect a strong odor of alcohol. Initially, officers were told that Moore had just left to drop a friend off, but later determined that Moore had actually left the child alone while he went drinking.
Joseph Moore was taken into custody at that time. Since the child's mother was out of town, the three year old was put in the care of a neighbor until the mother could arrive home; the neighbor normally babysits the child.
Around 6:30am, officers were given additional information by the child's mother who said she was told that the child had been given a large amount of Benadryl to keep him asleep.
Joseph Moore
Name: Joseph Alexander Moore (W/M)
DOB: 11-25-87
Given Address: 719 Anita Ct, Clarksville, TN
Charged With: Child Neglect.
Booked Into: Montgomery County Jail. 
Bond: $50,000.