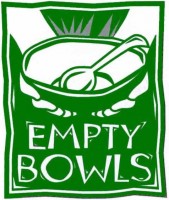 Did you know that last year over 500 bowls were painted for the annual Empty Bowls Soup Dinner? Raising $14,000. Community folks sharing their gifts and talent to make this annual event special. Well, it is that time of year when we begin to get ready for the big event- making and painting bowls, finding sponsors and recruiting volunteers. With over 500 tickets sold last year – this year we plan to serve 650 people; that is a lot of bowls!
Tickets to the event are are now on sale! So, if you are interested in sponsoring a painting party, want to volunteer, be a sponsor for the event, or buy tickets please call 931-551-5450 or send an e-mail to rita.arancibia@gmail.com.
A bowl painting session was recently held at the Pottery Room on November 16th, here are some photos for you to enjoy!
Photo Gallery