Clarksville, TN – On November 19th, 2010 a woman came to Police Headquarters to report a series of events which began on November 18th. She told Police that she had been kidnapped and held at knifepoint by her baby's daddy, Alvin Dewayne Brown. 
It all began when Brown was at the female victim's apartment visiting their six year old female child. During the course of the visit, Brown and the victim started arguing. Brown told the woman he needed to go to the store. According to the victim, when she got into the vehicle to take Brown to the store, he pulled out a knife and forced her to drive to several locations around town. He continued to threaten her with the knife while they were in the vehicle.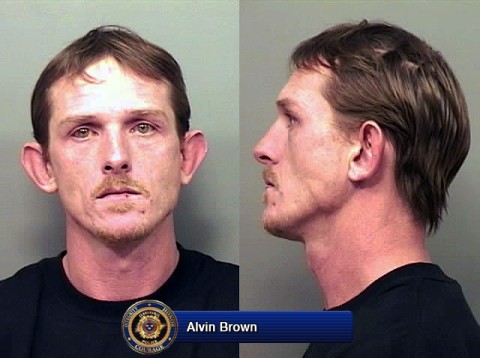 Furthermore, she claimed to have been forced to take Brown to a Circle Drive address to steal some items. The stolen items were then taken to a location on Academy Drive where the property was sold. From there, they allegedly went to Oak Lane to purchase narcotics. When Brown came out of the Oak Lane residence, they went back to the victim's apartment, at which time, he was convinced to leave.
When Detective Javier Matiz spoke to the victim, she gave a detailed description of the knife. The knife was later located and recovered from the Academy Avenue address. Brown was located on Golf Club Lane, interviewed, and taken into custody. He was also charged for drug paraphernalia which was found in his vehicle.
Alvin Brown
Name: Alvin Dewayne Brown (W/M)
DOB: 8-18-79
Given Address: Homeless
Charged With: Aggravated Kidnapping, Aggravated Domestic Assault, and Unlawful Drug Paraphenalia. 
Bond: $30,250.
Brown has a history of Domestic Violence.