Written by U.S. Army Staff Sgt. Ryan C. Matson
Task Force Bastogne Public Affairs Office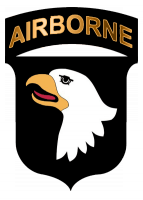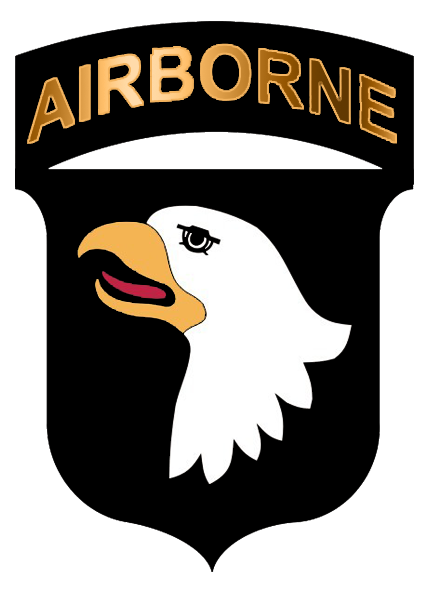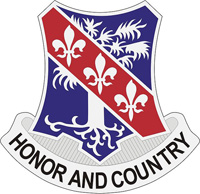 Nangarhar Province, Afghanistan – They say the holidays are a time for families to be together.
U.S. Army Sgt. William Billett was together with his son, U.S. Army Sgt. Timothy Billett, this Thanksgiving, albeit under rather unique circumstances. William presented his son the Purple Heart for wounds suffered in combat August 28th.
"It's kind of a day of mixed emotions," William said. "I'm so proud of my son for what he did, and saving the gunner, but at the same time it was a really close call for him."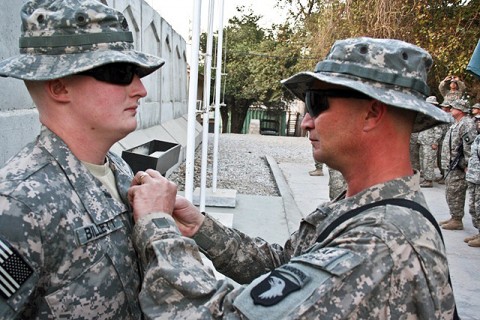 Timothy, a military policeman with Headquarters and Headquarters Company, 1st Special Troops Battalion, military police platoon, was sitting in the rear seat of a mine resistant ambush-protected vehicle when the convoy was ambushed by insurgent forces in the town of Chaparhar.
The vehicle was struck with a rocket-propelled grenade, which blasted diagonally through the vehicle, killing the driver, U.S. Army Spc. Bryn Raver, Headquarters and Headquarters Co., 1st Special Troops Bn., a military policeman from Berryville, AR; and the back seat passenger across from Timothy, U.S. Army Capt. Ellery Wallace, the commander of Troop B, 1st Squadron, 61st Cavalry Regiment, from Salt Lake City. The vehicle's truck commander, U.S. Army Sgt. 1st Class Patrick Stoner, Headquarters and Headquarters Co., 1st Special Troops Bn., the platoon sergeant from Pittsburgh; the gunner, U.S. Army Spc. Eric Braman, a military policeman also with Headquarters and Headquarters Co., 1st Special Troops Bn. from Lafayette, IN; and Timothy all suffered injuries from the blast.
"It was the first time (Wallace) went out of the wire," Timothy said regretfully.
After the round struck, Timothy said, "everything was kind of garbled for a while."
When he came to his senses, however, he heard Braman screaming, and immediately took action.
Braman's foot was severely injured. Timothy applied a tourniquet to his leg and applied manual pressure on the wound until medics arrived. The pressure prevented Braman from bleeding to death, even though his right leg still needed to be amputated eventually. Stoner also suffered shrapnel wounds and was knocked unconscious.
"I just kind of held Braman's hand all the way to Forward Operating Base Fenty and told him he was going to be alright," Timothy said.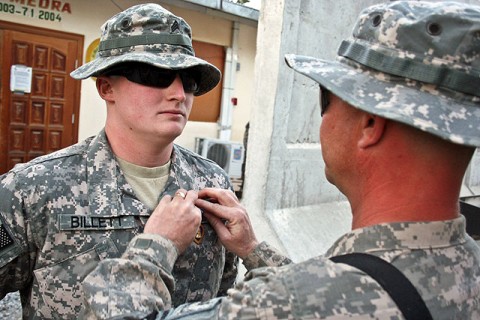 Timothy suffered significant injuries as well.
"I just took a lot of shrapnel," he said. "To the back of my neck, the side of my face, my right knee, my right foot, my left arm, and I also had a piece in my eye, which had to be removed. I was really lucky."
It took a while for Timothy to recover from the injuries, he said. Luckily, he sustained no vision damage, but was in considerable pain for several weeks following the incident. He walked with a limp for a while and still has a lot of shrapnel throughout his body.
"I still have a lot in my leg," Timothy said, lifting his pant leg to reveal several red marks riddling his right leg.
Still, Timothy has been able to make a full recovery and return to duty with his platoon. He was even able to take an Army physical fitness test the day before his Purple Heart ceremony.
Timothy said it's nice to receive an award from his father, but he wished it wasn't under these conditions.
"It's awesome to have my father here, but I'd give (the Purple Heart) back in a second or do anything to change what happened that day if I could," he said.
Fortunately, Timothy was the only Billett who received a Purple Heart during this ceremony. William, his father, came dangerously close to being presented one from his son as well. During an attack on Combat Outpost Munoz earlier this year, William was shot through the plastic sole of his boot by enemy fire.
"I think about (my father being in danger) all the time," Timothy said. "I'll call him on the phone, and he'll tell me the things that happened there, and I'll tell him what's going on here. And we talked about how we had both been in Iraq, (where) nothing happened. It was almost like we were biding our time."
This was the first time William, 44, and Timothy, 23, have physically seen each other during their deployment to Afghanistan, as both are serving at different locations in different units. William is an infantryman with Company B, 2nd Battalion, 506th Infantry Regiment serving at COP Munoz, and Timothy still serves with Headquarters and Headquarters Co., 1st Special Troops Bn. on FOB Finley Shields. Both are Soldiers with the 101st Airborne Division, out of Fort Campbell, KY.
"It's a huge morale boost to get to see him again," William said. "A lot of guys don't get to see their families until they go on mid-tour leave, but I get a couple days with him now, which is almost like being on (mid-tour leave) while we're deployed. It really recharges my batteries."
The father/son tandem have also deployed to Iraq for 15-month deployments, but only saw each other once during that time as well. They said they are able to talk frequently via e-mail and sometimes by phone, as well.
Timothy was born in Germany when his father was stationed there. He grew up mostly in Wyoming, MI, a suburb of Grand Rapids, but also lived at Fort Campbell when his father was stationed there. He said he has fond memories of being a small child at Fort Campbell, which influenced him in deciding to join the Army later in life.
"When I was little, I remember my father hanging out with his buddies and going up to the Air Assault course, and I always wanted to do stuff like that," Timothy said.
Little did he know, the two would be together again at Fort Campbell almost two decades later. Timothy enlisted in the Army after he graduated high school in 2005 when he was 18. His father, then 39, followed him six months later. William had already served for eight years his first enlistment and had a 14-year break in service before enlisting again after his son.
"I thought he was crazy when he did it," Timothy said. "I thought he was too old."
William laughed at his son's remark.
"I definitely wouldn't have done it had Timothy not joined," he said. "There were a bunch of different reasons that led me back, though, mostly because I missed it.
"We started joking around with the recruiter, and I decided it was time to follow him around for a change!"
Timothy went through basic training and advanced individual training before arriving at his first duty station, Fort Bragg, NC. Meanwhile, because he was prior service, William did not need to repeat basic training, but completed the warrior transition course instead, before ending up stationed at the other end of the country at Fort Lewis, Wash.
After their tour in Iraq, Timothy put in a request for a change of duty station to Fort Campbell, which was accepted. His father then re-enlisted to join him there. Timothy got there in October 2008, and his father arrived a month later. Timothy deployed to Afghanistan in April, and his father once again followed, arriving in country in August.
They both said this Thanksgiving is a lot different than those they would spend back in the states.
"Probably, we'd be deer hunting right now," William said. "We'd always do that Thanksgiving morning and then by the afternoon we'd be too stuffed to move."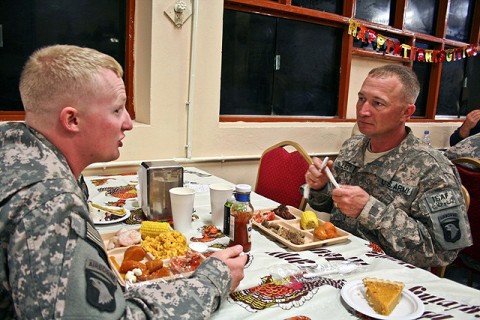 Back home in Fort Campbell, William said his wife, Beth, will have a big dinner prepared, which she will share with their daughter, Amber. Timothy's children, Kailey, 5, and Micah, 3, will also be at the dinner, thinking of their father and grandfather.
William said having grandchildren is a humorous thing to share with his fellow infantrymen at COP Munoz.
"It's pretty funny because a lot of the sergeants in my unit all have kids about the same age as my grandkids," William said. "They'll be showing pictures and drawings that they sent over, and I'll be showing them mine, and they'll ask 'Your kids drew that?' I'll tell them it was my grandkids and they'll say 'Oh!'"
William said it is difficult for Beth to have her son and husband deployed for the holidays, but she keeps a positive outlook.
"She, God bless her, has trouble with it sometimes, us both being deployed, but she's a strong woman," William said. "She's really supportive, and this is my third time, so she's had some practice."
Hopefully next year, there will be a chair at the Billett's Thanksgiving dinner table for William and Timothy, too. This year, however, at least they got to spend it together – a proud father and his son, the recipient of a Purple Heart.