APSU Men's Basketball

Hoffman Estates, IL – Reggie Hamilton banked in a three-pointer with 3.0 seconds left to send the game into overtime and then Oakland took advantage of its immense size inside during the extra session to down Austin Peay State University, 78-70, Saturday afternoon in final-day activity of the Chicago Invitational Challenge, played at the Sears Centre.
The victory drops the Govs to 3-4 on the season heading into Thursday's Ohio Valley Conference opener at Southeast Missouri.
The Governors had taken the lead 64-63 with 33 seconds left when freshman Will Triggs scored inside. Then after a Oakland miss, they fouled Tyshwan Edmondson with 17.2 seconds. The junior from Hopkinsville knocked down both free throws to give the Govs a three-point lead.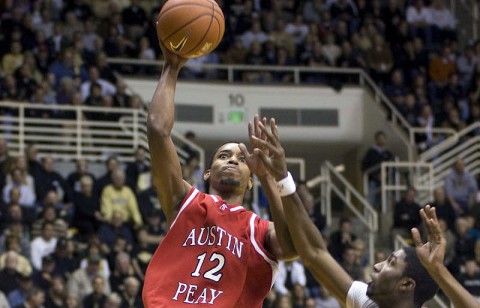 On the subsequent possession, Larry Wright missed badly on the Golden Grizzlies' first attempt to tie. The ball was tipped around with All-American Keith Benson corralling it before passing it to Hamilton, who knocked down his fifth three of the contest—and first of the second half—to force overtime.
In overtime, with starting frontcourters John Fraley and Melvin Baker, already fouled out ,the Govs were no match for Oakland's 6-11 Benson and 6-9 Will Hudson as APSU attempted to match them with 6-6 freshman Triggs and 6-7 Anthony Campbell. As a result, the pair scored six of the Grizzlies' 12 points while Benson blocked a pair of shots and grabbed two rebounds in overtime.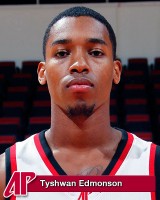 It was a second disheartening overtime loss the Govs have experienced during the season's first three weeks. They lost at Lipscomb, 104-101 on November 18th. This one was especially difficult because it was a game the Governors controlled for nearly three-quarters of the afternoon against an Oakland team that is the prohibitive favorite to win the Summit League and is ranked No. 12 in the Mid-Major poll.
When Edmondson hit a jumper to give APSU a 10-8 lead with 14:51 left in the first half, the Govs seized momentum , leading by as much as nine, until Oakland tied it a trio of times last in the half. But Tyshwan Edmondson hit a three as the first-half buzzer sounded to give the Govs a 35-32 halftime advantage.
When the second resumed, the Govs again assumed control, pushing the lead out to 11, 46-35, when Baker knocked down a three.
However, Baker and Fraley could not stay out of foul trouble while at the same time the Govs, playing their second game in as many days, began to go cold from the outside. Oakland clawed its way back, again taking advantage of Benson's size—he finished with 22 points and 22 rebounds—to wear down the Governors. In fact, Oakland took a three-point lead at 60-57 on a Wright layup with 2:52 remaining.
But the Govs refused to fold as Campbell and Benson exchanged free throws to keep the Govs down by three, 62-59, before Edmondson cashed in on a game-tying long three with 1:40 left as the shot clock all but expired.  Hamilton made one of two free throws to give Oakland a 63-62 lead with 1:05 left before Triggs gave APSU with his work inside. Edmondson's free throws followed to set up the game-tying sequence.
Edmondson, who was named to the all-tourney team, led the Governors with 25 points to go with three assists and three steals. Campbell ended with 13 points while Baker cracked double figures for the first time with 10 points. For a second straight game point guard Caleb Brown dished out seven assists.
Hudson (21 points) and Hamilton (20 points) joined Benson as Grizzlies' 20-point scorers  as Oakland improved to 3-3 on the season.
The Govs, after shooting 45.5 percent (15 of 33) in the first half, connected on just of 10 of 34 shots (29.4 percent) after the intermission, including overtime.