Clarksville, TN – On the 28th of November, a 20 year old man, later identified as Alex Lee Baker, called 911 on three separate occasions to report bogus emergencies. The first 911 call came in about 7:13pm from an unidentified male saying that he was a witness to a murder at 1804 Evans Road and gave a description of male subject in a white car before disconnecting the call. 
The second call at 7:26pm from an unidentified male stated he was pushed out a door, stabbed, and was in the woods near Shaw Road before disconnecting.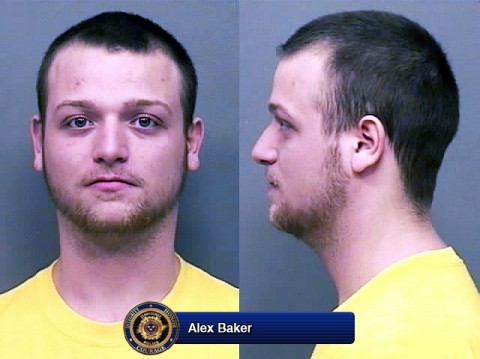 The third call received by 911 at 7:49pm from an unidentified male stated that he was in the woods dying and that Alex Baker killed his girlfriend and buried her in Woodlawn.
All of the calls originated from a phone owned by Alex Baker. The calls were pinpointed to the vicinity to the area where Baker lived.
When officers spoke to Baker at his home, he told them that he did not place the calls and had not seen his cell phone for quite some time. Police took the 911 calls seriously and throughout the course of the night had several officers from Clarksville Police Department, two Deputies and a K-9 team from the Montgomery County Sheriff's Office, and two Tennessee Highway Patrol Troopers assisting with the investigation. The K-9 team and a THP helicopter were called in and requested to aid in the search of the wooded area.  
After almost four hours and nothing being found to substantiate the 911 calls, the search of the area was cut short when officers responded to an Armed Robbery of a business on the 3000 Block of Fort Campbell Blvd. Detective Ewing continued the investigation into the 911 calls. 
During the course of the investigation, he was able to determine Baker had lied to Police when questioned about the call, placed the calls from his cell phone, and none of the reported emergencies actually occurred. During the interview with Baker, Detective Ewing found that Baker had placed the calls because he was bored and was anxious because had not had a cigarette in two days.
Alex Baker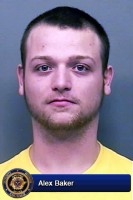 Name: Alex Lee Baker (W/M)
DOB: 6-24-90
Given Address: 1804 Evans Road Clarksville, TN
Charged with: Three Counts of False Report
Bond: $15,000.