Written by U.S. Army Staff Sgt. Mark Burrell
Task Force Bastogne Public Affairs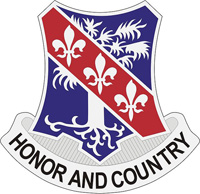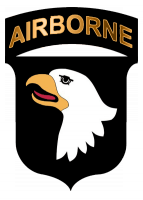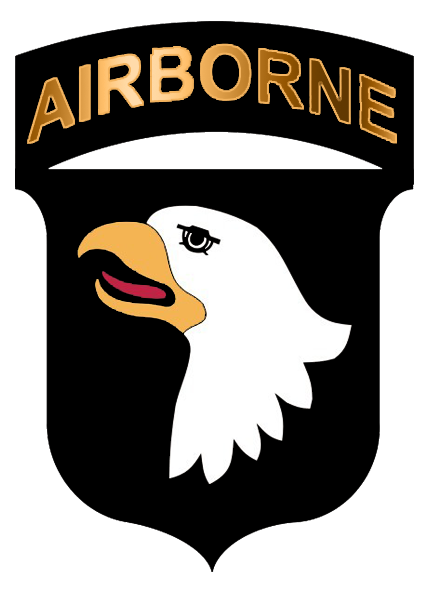 Kunar Province, Afghanistan – On a mountainside plateau 7,500 feet high in the Taliban-infested Pech River Valley, something moved in the night.

It wasn't the wiry Afghans who reside in the mountains. They know when night falls to retreat to their homes.

It was U.S. Army Staff Sgt. Lucas A. Kammerer with Bushmaster Company navigating the treacherous terrain in the dead of night.

"There's a myth, I think, amongst us coalition forces and International Security Assistance Forces that there are some places we can't go," said U.S. Army Lt. Col. Joseph A. Ryan, Task Force Bulldog commander. "That is absolutely and unequivocally untrue. We can go anywhere we want to go. We have the technology to support it, but most importantly … our infantrymen are tougher, stronger, more capable and better trained than the enemy is," the Pearl River, NY, native added.

Dispelling this myth, Bushmaster Co. Soldiers joined forces with Afghan National Army soldiers to complete the final phase of Operation Bulldog Bite in the Pech River Valley in eastern Afghanistan's Kunar Province November 22nd.

After conducting an air assault onto the high ground, Kammerer and his troops moved out.

"Picture the rockiest, crappiest terrain you can think of at 7,500 feet with 75 pounds on your back taking you down the mountain," said Kammerer, a squad leader from Nashville, Tennessee, assigned to Co. B, 1st Battalion, 327th Infantry Regiment, Task Force Bulldog.

As they began the trek down, an AH-64 Apache helicopter screamed overhead and fired a volley of missiles a few hundred yards away.
"About 30 seconds after we landed, the Apaches lit somebody up in the caves we were next to, which is a disconcerting feeling, but it's all part of it," explained Kammerer as the joint patrol moved toward its first objective.
The area has been a stronghold for quite some time, and the Soldiers were finally glad to be up into the same mountains that overlook their combat outpost he said.
"It's frustrating because our base is just south of here, and we get attacked all the time, so we know they're up here," explained Kammerer.
As dawn approached, the separate elements arrived at their objectives. Resting on rocky outcroppings that overlook tiny villages perched on the mountainside, the Soldiers were sweating and cursing the terrain.
"It was 600 to 700 meters to reach our first objective and the terrain was loose, rocky and steep," said Kammerer. "Our objective was to clear the villages of enemies, caches or weapons."
Silently, the joint patrol moved out and cleared multiple locations at the same time just as the sun was beginning to silhouette the jagged mountains.
"It doesn't matter for us and coalition forces about the mountains," said Afghan National Army 1st Lt. Asauma Din, an infantry platoon leader from Kabul City, Afghanistan, assigned to 2nd Co., 2nd Inf. Bn., 2nd Brigade, ANA Corps. "We are always going where the enemy is. Our message to them is to come down and turn themselves in and their weapons and we will negotiate. We always approach them peacefully, but if they don't then we will come get them."
As the soldiers moved into the villages, they spoke with the locals and searched every possible hiding place for anything suspicious.
"When we started the operation, we joined together to search the houses," said Din. "But we don't want to have the villagers look at us with bad eyes, so before we search, we tell them we are here for their security."
In order for the ANA and U.S. forces to succeed, they need to let the people know that they are here for them.
"The large majority of people in this area are essentially indifferent to the fighting between us and the insurgent groups," said Ryan. "They don't take sides, they live with it and have to deal with it day in and day out. They're farmers, landowners and ranchers essentially. So we obviously take that into account when we conduct operations such as Bulldog Bite."
One message operations such as this are trying to send to people is even if U.S. forces leave, Afghan National Security Forces will always be here to protect Afghans.
"We use this as an opportunity to talk to the people with our coalition brothers," said Din, who has wanted to serve in the ANA since childhood. "We can't let the outsiders influence the people to help the enemy. We want to fight their propaganda and tell them if we lose one soldier, then there will be three more ready to replace him."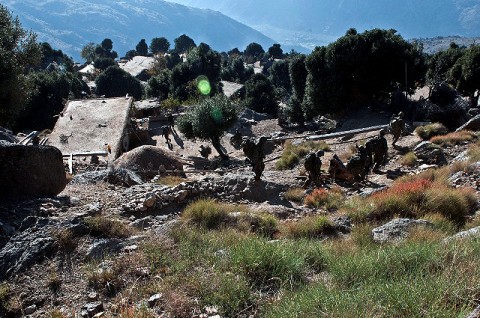 Ryan agreed and stressed that the ANA are getting more proficient each day because of their desire to see their country succeed.
"Though they may not be technologically or organizationally prepared for the job they have down the road, the willingness is there and the heart is there," said Ryan. "They're willing to stand side-by-side with us and fight for their country."
After spending a few hours searching the village and talking to Afghan males, the soldiers pressed on. For the next two days, they moved at night and appearing in doorways at dawn the ANA and U.S. soldiers established a rhythm of pulling security, searching and resting.
"I felt pretty exhausted after resting for a few hours, but I kept going," said Kammerer. "We don't have a choice. It's our job over here. That's why they call us grunts. It's supposed to suck and it's supposed to be hard. We're supposed to be dirty and tired and hungry. That's the way it's always been and that's what we do."
Carrying essential water, food and clothing on their backs, they had to ration out each meal and control their impulse to replenish the hundreds of calories burned during every hour.
Though the work was intense and painstaking, the joint patrol cleared every building on the mountainside taking few breaks.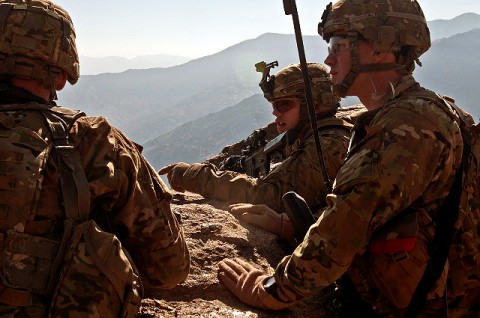 "I don't remember where we slept … it feels like a week ago. Where were we?" said Kammerer. "I remember sleeping for an hour and 52 minutes … But it says to the enemy, 'Look, we're not afraid to get up here and walk around and duke it out with you.' From that aspect, it's a good thing."
Ryan echoed those thoughts, but doesn't underestimate his foe.
"I give the enemy full credit. A lot of cases he's willing to stand and fight; stand and fight and die, but stand and fight," said Ryan. "I don't take anything away from his capability or his willingness to fight for his cause. But we want what's best for the large majority of the population of Afghans in the Pech. He wants what's best for a very extremely small minority of Islamic fundamentalists that see this area as a potential safe haven down the road."
Taking away the enemies' ability to hide themselves and protect themselves in the craggy mountainside is one of Bushmaster Co. Soldiers' specialties, said U.S. Army Capt. Thomas Whitfield II, company commander from Kingstree, SC.
During the third day, Whitfield and his team wanted to talk directly to the village elders to let them know their suspicions of Taliban in the area and to hear their concerns.
"We told them we're not there to disturb their harmony, but if they allow the enemy to use this area as a staging ground or sanctuary, then they'll be responsible for whatever happens," said Whitfield.
The villagers nodded solemnly and added that U.S. and ANA soldiers were easier to deal with than Taliban because they didn't beat the villagers and threaten them into making food for them.
While the meeting was happening inside a house, the vigilant soldiers peered into the shadows of the mountains.
"They're out there," said Whitfield. "But the enemy couldn't find an opening in our perimeter because of our posture and our ability to provide security."
Throughout the different phases of Bulldog Bite, the enemy has probed the joint forces' defenses resulting in minimal causalities. Yet, the overall mission has produced more than 150 insurgents killed, two training camps revealed, multiple weapons caches and an invaluable intangible.
"Confidence," said Whitfield. "It gave our guys confidence because it reminds them that we can go anywhere … The best thing you can have is a confident infantryman, especially a confident Bushmaster. And that's the worst thing for the enemy."
The sun went down and the moon wasn't over the mountains yet. It was dark again and a few house lights spotted the mountainside. Calm blanketed the Pech River Valley and nothing, almost nothing moved except for a joint patrol snaking it's way down to the valley floor.
Sections
News
Topics
101st Airborne Division, Afghan National Army, Afghanistan, Fort Campbell KY, Joseph A. Ryan, Kunar Province, Mark Burrell, Operation Bulldog Bite, Pech River Valley, Taliban, Task Force Bastogne