APSU Women's Volleyball
December 3rd, 2010 • Huff Hall • Champaign, IL 

Clarksville, TN – Austin Peay's volleyball team will face No. 8 national seed Illinois at 7:00pm, Friday, in the 2010 NCAA Women's Volleyball Championships' opening round at Huff Hall. 
It is Austin Peay's first-ever trip to the NCAA championship tournament. The Lady Govs earned the Ohio Valley Conference's automatic berth after winning the league's championship tournament, November 20th. 
Austin Peay clinched its second-ever OVC tournament title – and first since 1991 – with a four-set victory against regular-season champion Morehead State which was hosting the tournament. The Lady Govs defeated sixth-seeded Tennessee Tech in a four-set semifinal contest. Austin Peay finished second in the OVC's regular season race for the second consecutive year. 
Sophomore outside hitter Nikki Doyle was key to the Lady Govs two victories in the championship, leading the team with 20 kills in the semifinal and 17 kills in the championship. She was named the tournament's "Most Valuable Player." Also named to the all-tournament team were senior setter Sarah Alisaleh, who recorded 102 assists (12.75 aps), and junior outside hitter Ilyanna Hernandez, who posted 26 kills (3.25 kps). 
Illinois finished tied for second place in the Big Ten's regular-season race, with a 14-6 conference mark. The Illini finished two matches behind Big Ten champion Penn State which received the No. 4 national seed in the tournament. The Big Ten placed eight teams in the tournament with four squads receiving one of 16 national seeds. 
Junior outside hitters Colleen Ward and Michele Bartsch lead the Fighting Illini's offense. Ward is averaging 3.89 kills per set with an impressive .244 attack percentage. Bartsch is averaging 3.56 kills per set with a .203 attack percentage.  They rank third and fifth, respectively, among the Big Ten's kills leaders. 
Friday's meeting will be the second between Austin Peay and Illinois on the volleyball court. The Fighting Illini won a 2005 meeting in four sets  at the Northern Illinois Invitational. That season Austin Peay went 10-21 overall while Illinois finished the campaign with a 16-15 mark. 
Game Data
Austin Peay and Illinois will meet for the second time in series history in the opening round of the 2010 NCAA Women's Volleyball Championship, Friday.
Austin Peay clinched its second OVC Tournament title one week ago with a four-set victory against OVC regular-season champion Morehead State.
The Lady Govs won the 1991 OVC Tournament title, one year prior to the league's tournament champion receiving an automatic bid to the NCAA tournament.
Friday's contest will be the latest a match has been played in APSU volleyball history.
Sophomore Nikki Doyle was named the OVC Tournament's "Most Valuable Player" after recording 37 kills (4.63 per set) in the Lady Govs two matches.
Senior setter Sarah Alisaleh and junior outside hitter Ilyanna Hernandez also were named to the OVC All-Tournament Team.
Key Notables From OVC Tournament
Austin Peay won the championship after losing in the semifinals the previous two tournaments.
The Lady Govs won a first-round match in the 2008 tournament before losing to host Tennessee Tech. Austin Peay lost in the semifinals last season – its first match of the tournament – in a five-set marathon to Morehead State. 
Senior middle blocker Jessica Mollmann recorded 16 kills in the semifinal but was held to six kills in the championship match and finished with a .189 attack percentage.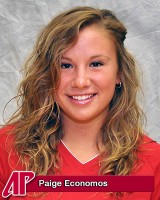 Austin Peay's service game continued to cause opponents trouble. The Lady Govs recorded 14 service aces (1.75 saps) during the championship. Junior outside hitter Kayla Grantham and libero Paige Economos each recorded four aces during the tournament. 
The Lady Govs also got the job done at the net with seven different players recording a block and the team finishing with 17 blocks (2.12 bps) in the championship. Senior middle blocker Taylor Skinner finished with eight blocks (1.00 bps). 
Doyle Named OVC Tournament's MVP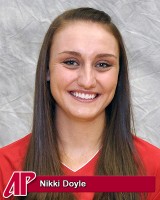 Sophomore outside hitter Nikki Doyle was named the OVC Championship's "Most Valuable Player" after recording 17 kills against Morehead State and finishing with 37 kills and a .321 attack percentage in the tournament. 
She joins Isabel Canedo (1992) as the only Lady Govs to receive Tournament "MVP" recognition. 
Alisaleh, Hernandez Named To OVC All-Tournament Squad
Senior setter Sarah Alisaleh and junior outside hitter Ilyanna Hernandez also were named to the all-tournament team. Alisaleh recorded 102 sets in the two championship matches while Hernandez finished with 26 kills, including 16 in the title match. Joined by Doyle, the trio brings to 16 the number of Lady Govs to receive all-tournament recognition.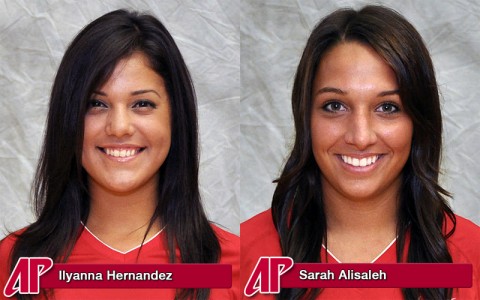 Doyle Named To All-OVC, All-Newcomer Teams
Sophomore outside hitter Nikki Doyle was named to both the All-OVC squad and the league's All-Newcomer team in her first season at Austin Peay. She finished with 229 kills in conference action, her 3.27 kills per set ranking sixth among the league's hitters in league play. Through the regular season's end, Doyle recorded 380 kills and her 3.42 kills per set ranks fourth among the league's hitters. 
Mollmann Named to All-OVC Team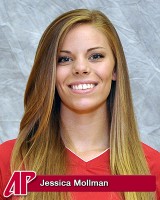 Senior middle blocker Jessica Mollmann followed last season's second-team recognition with All-OVC honors this season. One of the Lady Govs captains, Mollmann led the Lady Govs with a .303 attack percentage in conference play that was fifth-best in the league. 
She finished the regular season averaging 2.41 kills per set and 0.69 blocks per set, ranking third and second, respectively, on the squad. 
Alisaleh Records 400th Assist, 1000th Dig
Senior Sarah Alisaleh became the third Lady Govs setter to record 4,000 career assists, reaching the milestone against Jacksonville State, October 29th. Earlier that month, she also became the 15th player to record 1,000 career digs, reaching that milestone against Tennessee State, October 8th. 
She is only the second player in program history to reach both plateaus – joining Annie Glieber (1997-00). Alisaleh currently has 4,358 career assists and 1,137 career digs and ranks second and 13th, respectively, on APSU's career lists. 
Mollmann Reaches 1000-Kill Plateau
Senior middle blocker Jessica Mollmann became just the ninth Lady Govs player all time to record 1,000 career kills, reaching the milestone, September 24th at Tennessee Tech. She currently has 1,171 career kills and ranks sixth all-time in the category and needs 14 kills to move into the fifth spot currently held by Jenny Wenning (1,684 kills, 1996-99) 
Mollmann, Skinner Each Surpass 200 Career Block Mark
Seniors Jessica Mollmann and Taylor Skinner may go down as one of the finest middle blocker pairings in Austin Peay history. They are the first duo to each surpass 200-career blocks during their careers. 
Skinner currently holds the edge with 280 career blocks, ranking fifth all-time. Mollmann is right behind her in sixth place with 276 career blocks. 
Doyle Records 400th Kill in 2010
Sophomore Nikki Doyle's performance at the OVC Championship put her in select company in another way as she became the 13th player to record 400 kills in a single season. She enters the post-tournament slate with 427 kills, eighth-most in program history. 
Not Prolific, But Accurate
The Lady Govs offense has only posted 1,646 kills this season – a number that does not rank among the program's top 10 marks all-time. What they lack in production, they make up for in accuracy. Austin Peay has posted a .246 attack percentage this season (45th in the nation) that is 16 points better than the current program record for percentage (.230 in 2008). 
Acing The Service Game
Austin Peay has been one of the nation's service ace leaders throughout the 2010 campaign. The Lady Govs enter Saturday's contest ranked second nationally in service aces per set (2.07). However, no individual Lady Govs player is ranked among the nation's top 25. Junior libero Paige Economos leads the team with 0.40 aces per set, ranking 30th nationally. This season's effort at the service line currently ranks fifth in total aces and fourth in aces per set. 
Broadcast Note
Friday's Austin Peay-Illinois contest will be shown live online for free at NCAA.com. The game will be shown tape-delayed on the Big Ten Network at 10:00am, Saturday. In addition, the Governors Radio Network will provide live audio of the match on WVRY 105.1 FM (available in West Tennessee and Western Kentucky) which also will be simulcast free online at www.LetsGoPeay.com.