APSU Women's Volleyball

Champaign, IL – Austin Peay State University's volleyball team saw its season come to an end with a three-set loss (19-25, 19-25, 19-25) to Illinois in the opening round of the 2010 NCAA Volleyball Championship, Saturday, at Huff Hall.
Austin Peay (26-8) was able to maintain contact early in each of the three sets. However, Illinois (23-8), the tournament's No. 8 seed and ranked 14th nationally, made key runs in each of the match's three sets to provide its margin of victory.
Austin Peay led 8-7 in the opening set following a kill by sophomore Alex Sain, who had three kills in the set's first eight points. But the Fighting Illini scored five consecutive points, the first three on kills by three different players and the final two on service aces by Jackie Wolf, to build a 12-8 lead. But Colleen Ward put the set away scoring Illinois' final five points with four kills and a set-ending service ace.
Illinois used a 5-1 run in the second set to turn an 11-11 tie into a 16-12 advantage. Michelle Bartsch and Jazmine Orozco each had two kills in the breakaway run. Once again, Ward was the Fighting Illini' go-to person at the set's end, scoring the team's final five poitns again, four on kills and another set-ending service ace.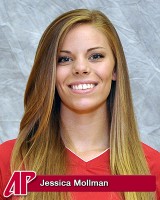 Austin Peay came out of the mid-match break and challenged Illinois straightaway, running out to an 8-4 lead and forcing a timeout.
The Lady Govs got five kills from four different players – two from senior Jessica Mollmann – in a display of offensive balance.
Following its timeout, Illinois roared back with a 9-2 run to take a 13-10 lead as Ward posted four of the team's seven kills in the stretch. The Illinois lead would briefly reach four points, 18-14, before Austin Peay could mount its first late-set comeback effort.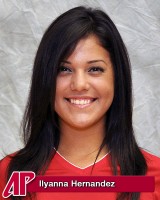 The Lady Govs stormed back courtesy an impressive effort by junior Kayla Grantham, who started a stretch of four consecutive points with a kill. She then rotated back to the service line where her mix of serves caused Illinois to lose its offensive flow.
Mollmann and junior Ilyanna Hernandez each scored kills off easy passes and another Grantham serve led to a Illinois attack error that tied the set, 18-18.
But after battling back to tie the set, Austin Peay became its own worst enemy committing five attack errors, including three into Illinois blocks, in the match-ending 7-1 run. Illinois' Johannah Bangert had a hand in each of the three blocks that turned the tide.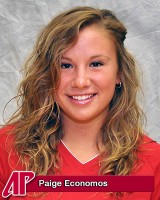 Hernandez led Austin Peay with 10 kills but also had seven errors and finished with a .100 attack percentage. Doyle and Mollmann each added eight kills. Junior Paige Economos led the Lady Govs defense with a 22-dig performance.
Ward led all hitters with 17 kills while posting a .333 attack percentage. Erin Johnson added nine kills without an error to post a .692 attack percentage. Bangert had just three kills but added a match-high seven blocks. In addition, Illinois won the service game, recording 10 service aces – the most by an APSU opponent since early October.