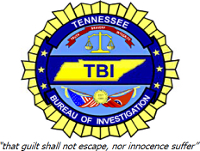 Nashville, TN – The Tennessee Bureau of Investigation today served a murder warrant on a current inmate in the Putnam County Jail after he was indicted by the Smith County Grand Jury earlier this week for killing a 19-year-old woman in May of this year.
Michael Lynn Horn, 47, of Dickson, Tennessee, was indicted on one count of second degree murder for the death of Cynthia Dawn Crabtree. Her decomposed body was discovered on May 28th, 2010 off Grant Highway in Smith County after she had been missing for nearly two weeks.
Horn is currently being incarcerated in the Putnam County Jail in Cookeville for the attempted murder of a TBI Special Agent that occurred in June while agents were trying to serve him with a warrant on Thomas Road in Cookeville, Tennessee.
Horn's bond was set at $100,000.