APSU Men's Baseball

Clarksville, TN – Austin Peay State University's baseball team recently wrapped up its fall practice schedule and head coach Gary McClure announced the program's 2011 schedule, Thursday.
The Govs concluded their fall schedule before Thanksgiving and spent the largest portion of the slate bringing their 16 newcomers into the fold. In addition, Austin Peay saw seniors Jack Snodgrass and Ryne Harper, junior Greg Bachman and freshman Alex Belew return to the team after missing portions of the 2010 campaign.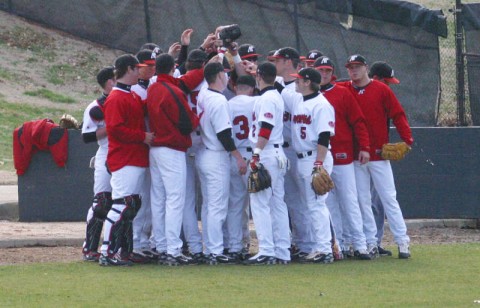 That group joins a roster that will include 14 returning lettermen. However, the Govs only have five staring position players returning and will have to replace their entire outfield, which was lost to graduation. Austin Peay does return six pitchers who made an appearance last season.
Leading the group of returnees will be junior infielder/outfielder Jon Clinard, who was a second-team All-Ohio Valley Conference selection last season, as well as first baseman John Hogan and outfielder Cody Hudson, who were each OVC All-Freshman team honorees.
"I went into the fall thinking that it was going to be very tough due to all the new faces and all the teaching we would have to spend our time on," said McClure. "However, I was excited to learn that we had young guys who were already very physical and very advanced in the mental aspects of playing the game. So in the end, I was very happy with how the fall went as well and how our players picked up on things. Our intrasquad contests were very competitive on a daily basis and our Red vs. White World Series was extremely intense and played very well. I think this will be a team that fits my personality as a coach and will have a chance to be successful if they continue to work hard."
McClure and the Govs now turn their attention to the 2011 schedule which begins February 18th when they host Valparaiso in a three-game series. APSU will play 10 of its first 12 games at Raymond C. Hand Park, including the Austin Peay Classic with Illinois State and Milwaukee, February 25th-27th, and the Governors Invitational with Eastern Michigan and Alabama A&M, March 4th-5th.
"I am eager to get started with the 2011 baseball season," McClure said. "We will play our usual demanding schedule that will prepare us for a very tough OVC season, the tournament and, hopefully, an NCAA Regional. Along with the OVC schedule, we will play teams from many of the top leagues in the country."
Austin Peay will travel to Mississippi, March 1st-2nd, for its only two road contests during that opening stretch. The Govs also will have key weekend series at Arkansas State and Illinois State before OVC play begins in late March.
Another key March fixture will be a March 16th night contest against Tennessee at Raymond C. Hand Park. It will be the first time the Vols have visited Raymond C. Hand Park.
"There is no doubt the schedule will be challenging, but that's the way I prefer it," McClure said. "We have Tennessee coming to Clarksville for the first time. It's not easy to get an SEC team to play away from home, so I am grateful to their coaching staff for being willing to do this. This should be an exciting game for both our players and the city of Clarksville. It is my hope we can make this into a great event."
In addition, the Govs will continue their home-and-home series with regional opponents Belmont, Evansville, Lipscomb, Middle Tennessee and Western Kentucky.
The OVC slate begins with a three-game series at Murray State, March 26th-27th. In addition to that road trip, Austin Peay will travel to 2010 OVC tournament champion Jacksonville State (April 16th-17th), Morehead State (April 30th-May 1st) and UT Martin (May 20st-21nd). The Govs will host Eastern Illinois (April 2nd-3rd), Eastern Kentucky (April 9th-10th), 2010 regular-season champion Tennessee Tech (May 7th-8th) and Southeast Missouri (May 14th-15th) at Raymond C. Hand Park.
The top six teams at the end of the OVC regular-season race will qualify for the 2011 OVC Baseball Championship, which again will be held May 25th-29th at Pringles Park in Jackson.
Complete 2011 Baseball Schedule
Date
Opponent
Location
Time(CT)
 
Fri, Feb 18
 

Valparaiso


Clarksville, Tenn.

 

3:00pm.

 
Sat, Feb 19
 

Valparaiso


Clarksville, Tenn.

 

1:00pm.

 
Sun, Feb 20
 

Valparaiso


Clarksville, Tenn.

 

12:00pm.


| | |
| --- | --- |
| | Austin Peay Invitational |

 
Fri, Feb 25
 

Illinois State


Clarksville, Tenn.

 

3:00pm.

 
Sat, Feb 26
 

Milwaukee


Clarksville, Tenn.

 

2:30pm.

 
Sun, Feb 27
 

Milwaukee


Clarksville, Tenn.

 

2:30pm.

 
Tue, Mar 01
 

Mississippi


at Oxford, Miss.

 

6:30pm.

 
Wed, Mar 02
 

Mississippi


at Oxford, Miss.

 

6:30pm.


| | |
| --- | --- |
| | Governors Classic |

 
Fri, Mar 04
 

Eastern Michigan


Clarksville, Tenn.

 

3:00pm.

 
Sat, Mar 05
 

Alabama A&M


Clarksville, Tenn.

 

2:30pm.

 
Tue, Mar 08
 

South Dakota State


Clarksville, Tenn.

 

4:00.m.

 
Wed, Mar 09
 

South Dakota State


Clarksville, Tenn.

 

4:00pm.

 
Fri, Mar 11
 

Arkansas State


at Jonesboro, Ark.

 

6:00pm.

 
Sat, Mar 12
 

Arkansas State


at Jonesboro, Ark.

 

4:00pm.

 
Sun, Mar 13
 

Arkansas State


at Jonesboro, Ark.

 

1:00pm.

 
Wed, Mar 16
 

Tennessee


Clarksville, Tenn.

 

6:00pm.

 
Fri, Mar 18
 

Illinois State


at Bloomington, Ill.

 

3:00pm.

 
Sat, Mar 19
 

Illinois State


at Bloomington, Ill.

 

2:00pm.

 
Sun, Mar 20
 

Illinois State


at Bloomington, Ill.

 

1:00pm.

 
Wed, Mar 23
 

Western Kentucky


at Bowling Green, Ky.

 

3:00pm.

 
Sat, Mar 26
 

Murray State (1) *


at Murray, Ky.

 

1:00pm.

 
Sat, Mar 26
 

Murray State (2) *


at Murray, Ky.

 

4:30pm.

 
Sun, Mar 27
 

Murray State *


at Murray, Ky.

 

1:00pm.

 
Wed, Mar 30
 

Middle Tennessee


Clarksville, Tenn.

 

6:00pm.

 
Sat, Apr 02
 

Eastern Illinois (1) *


Clarksville, Tenn.

 

1:00pm.

 
Sat, Apr 02
 

Eastern Illinois (2) *


Clarksville, Tenn.

 

4:30pm.

 
Sun, Apr 03
 

Eastern Illinois *


Clarksville, Tenn.

 

1:00pm.

 
Tue, Apr 05
 

Evansville


Clarksville, Tenn.

 

6:00pm.

 
Wed, Apr 06
 

Middle Tennessee


at Murfreesboro, Tenn.

 

6:00pm.

 
Sat, Apr 09
 

Eastern Kentucky (1) *


Clarksville, Tenn.

 

1:00pm.

 
Sat, Apr 09
 

Eastern Kentucky (2) *


Clarksville, Tenn.

 

4:30pm.

 
Sun, Apr 10
 

Eastern Kentucky *


Clarksville, Tenn.

 

1:00pm.

 
Tue, Apr 12
 

Western Kentucky


Clarksville, Tenn.

 

6:00pm.

 
Wed, Apr 13
 

Belmont


Clarksville, Tenn.

 

6:00pm.

 
Sat, Apr 16
 

Jacksonville State (1) *


at Jacksonville, Ala.

 

1:00pm.

 
Sat, Apr 16
 

Jacksonville State (2) *


at Jacksonville, Ala.

 

4:30pm.

 
Sun, Apr 17
 

Jacksonville State *


at Jacksonville, Ala.

 

1:00pm.

 
Tue, Apr 19
 

Lipscomb


Clarksville, Tenn.

 

6:00pm.

 
Fri, Apr 22
 

SIU Edwardsville (1) *


at Edwardsville, Ill.

 

1:00pm.

 
Fri, Apr 22
 

SIU Edwardsville (2) *


at Edwardsville, Ill.

 

4:30pm.

 
Sat, Apr 23
 

SIU Edwardsville *


at Edwardsville, Ill.

 

1:00pm.

 
Tue, Apr 26
 

Belmont


at Nashville, Tenn.

 

6:00pm.

 
Wed, Apr 27
 

Memphis


Clarksville, Tenn.

 

6:00pm.

 
Sat, Apr 30
 

Morehead State (1) *


at Morehead, Ky.

 

12:00pm.

 
Sat, Apr 30
 

Morehead State (2) *


at Morehead, Ky.

 

3:30pm.

 
Sun, May 01
 

Morehead State *


at Morehead, Ky.

 

1:00pm.

 
Sat, May 07
 

Tennessee Tech (1) *


Clarksville, Tenn.

 

1:00pm.

 
Sat, May 07
 

Tennessee Tech (2) *


Clarksville, Tenn.

 

4:30pm.

 
Sun, May 08
 

Tennessee Tech *


Clarksville, Tenn.

 

1:00pm.

 
Wed, May 11
 

Evansville


at Evansville, Ind.

 

6:00pm.

 
Sat, May 14
 

Southeast Missouri (1) *


Clarksville, Tenn.

 

1:00pm.

 
Sat, May 14
 

Southeast Missouri (2) *


Clarksville, Tenn.

 

4:30pm.

 
Sun, May 15
 

Southeast Missouri *


Clarksville, Tenn.

 

1:00pm.

 
Wed, May 18
 

Lipscomb


at Nashville, Tenn.

 

6:00pm.

 
Fri, May 20
 

UT Martin (1) *


at Martin, Tenn.

 

4:00pm.

 
Fri, May 20
 

UT Martin (2) *


at Martin, Tenn.

 

7:30pm.

 
Sat, May 21
 

UT Martin *


at Martin, Tenn.

 

1:00pm.


| | |
| --- | --- |
| | 2011 Ohio Valley Conference Baseball Championship |

 
Wed, May 25
 

Opening Rounds


at Jackson, Tenn.

 

TBA

 
Thu, May 26
–
 Fri, May 27
 

Tournament Play


at Jackson, Tenn.

 

TBA

 
Sat, May 28
–
 Sun, May 29
 

Championship


at Jackson, Tenn.

 

TBA


| | |
| --- | --- |
| | 2011 NCAA Division I Baseball Championship |

 
Fri, Jun 03
–
 Mon, Jun 06
 

Regionals


at TBA

 

TBA

 
Fri, Jun 10
–
 Mon, Jun 13
 

Super Regionals


at TBA

 

TBA

 
Fri, Jun 17
–
 Tue, Jun 28
 

Men's College World Series


at Omaha, Neb.

 

TBA

* Conference Games