Clarksville, TN – On December 10th about 3:32 pm two African American males robbed From the Heart Jewelers located at (571 South Riverside Drive).   The first suspect is described as a black male 5'6″ tall weighing 150 pounds, with a thin mustache. The second suspect is a black male 5'10" tall weighing 150 pounds with a thin mustache. Both men had light complexions, and were wearing sunglasses.
Clarksville Police Officers responded to reports of an armed robbery that already occurred. Upon arrival contact was made with the owner/complainant Mrs. Baggett.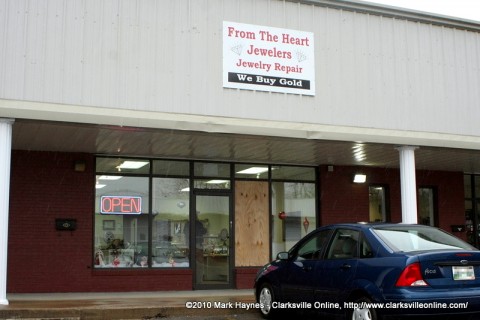 Mrs. Baggett stated that 2 black males had entered her store and demanded everyone to get down.
The second male lifted his shirt to show that he had what appeared to be a handgun in his waistband.
As the first male then began to bust the top glass of a jewelry case attempting to steal some diamond rings, Mr. Baggett backed up and ran to the back of the store to get his shotgun.
Mrs. Baggett heard the glass busting but thought her husband was being shot at behind the counter. She then fired a .357 mangnum from the back office and though the front window.
After hearing the shot the suspects ran to their car and sped away.
Mr. Baggett then ran after them with his shotgun and fired one round peppering the trunk of the car.
Officers were able to obtain some fingerprints from the scene. Fingerprints and photographs were turned into evidence.
No one was injured and there is no further information available at this time.  This is still a pending investigation. Anyone with information about this incident should call CPD at 648-0656 or Crime Stoppers at 645-TIPS (8477).
Editor's Note: Information contained in this story is from the Incident report filed by the Clarksville Police Department.