Signal Mountain Middle / High School Art Students Assist in Design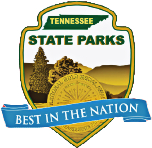 Signal Mountain, TN – Chattanooga-area Artist Susan Parry has been selected to create the state tree ornaments for Tennessee, which will be featured at this year's National Christmas Tree Lighting event hosted by the National Park Foundation and National Park Service.
This year, one artist and youth group were selected from each U.S. state, territory and the District of Columbia to design and create 26 ornaments.  Twenty-five of the ornaments will be hung from the state or territorial tree as part of the National Christmas Tree display on the Ellipse.  One of the ornaments will decorate the White House Visitor Center Christmas tree, which showcases each state/territory ornament.
Susan Parry is a full-time glass artist and resides in Signal Mountain, Tennessee – working out of her studio Torched in the Head.  Specializing in glass blowing, Parry has won numerous awards and exhibits her work at fine art shows throughout the Southeast.  Her work also has been recognized both nationally and internationally by various organizations and publications.
Partnering with the National Park Foundation and NPS, the Tennessee Department of Environment and Conservation and Tennessee State Parks chose Parry to serve as this year's artist due to her delicate and beautiful glass-blown collections.  Also a catalyst in bringing Parry on board was her unique take on this year's ornaments, combining elements of nature with an environmental message.
"As an artist, I am inspired daily by Tennessee's mountains, rolling hills and winding rivers that are so abundant in our beautiful state," said Parry.  "The ornaments also invoke environmental awareness, using recycled glass in a portion of the ornament design."
According to Parry, the landscape ornaments were created one at a time, using a propane oxygen torch and then annealed in a kiln for several hours.  The wreath that encircles each landscape was made from recycled champagne bottles, which were sliced and then fused together.  Both parts were wire-wrapped together with a non-tarnish wire and suspended with strong silk.
Parry worked with Ms. Betsy McClain's art students at Signal Mountain Middle / High School, who assisted in the design concept and assembling the ornaments.
"Like a snowflake, there are no two ornaments alike and most of the ornaments depict a scene that could have been plucked right out of a Tennessee State Park," said Environment and Conservation Commissioner Jim Fyke. "Susan and these great Signal Mountain students who assisted her did an outstanding job and their efforts perfectly fit our agency's daily role in protecting Tennessee's natural resources."
Using the recycled champagne bottle wreath design, Parry's second installment was inspired by Tennessee's own state flag – depicting its three-star motif in the center.  Parry also used fusible sheet glass, fine silver and a little artistic license in reversing the colors and using silver/white stars on red glass.
"We are delighted to have Susan Parry and the Signal Mountain Middle / High School participating in this year's National Christmas tree display," said Neil Mulholland, President and CEO of the National Park Foundation.  "This event is a wonderful example of how our national parks connect us as a nation."
As one of our country's oldest holiday traditions, the National Christmas Tree Lighting began on Christmas Eve in 1923, when President Calvin Coolidge lit a Christmas tree in front of 3,000 spectators on the Ellipse.  Since 1923, each succeeding President has carried on the tradition of what now has become a month-long event presented by the National Park Foundation and NPS.  In addition to the National Christmas Tree display, the Ellipse hosts a variety of family-oriented holiday attractions, such as Santa's Workshop, nightly holiday performances, a Yule log, nativity scene and model train display.
The National Park Service preserves unimpaired the natural and cultural resources and values of the National Park System and its 393 National Park sites for the enjoyment, education and inspiration of this and future generations.  The National Park Service cooperates with partners to extend the benefits of natural and cultural resource conservation and outdoor recreation throughout this country and the world.  For more information, visit www.nps.gov.      
Chartered by Congress, the National Park Foundation is the official charity of America's national parks.  We work hand in hand with the National Park Service to connect you and all Americans to the parks, and to make sure that they are preserved for the generations who will follow.  For more information about the foundation, please visit www.nationalparks.org.
Sections
News
Topics
Congress, Jim Fyke, National Park Service, Tennessee Department of Environment and Conservation, Tennessee State Parks and Natural Areas, White House