Written by U.S. Army Sgt. 1st Class Paula Taylor
Task Force Bastogne Public Affairs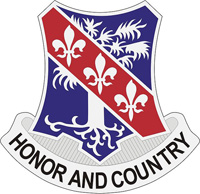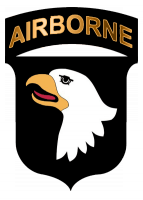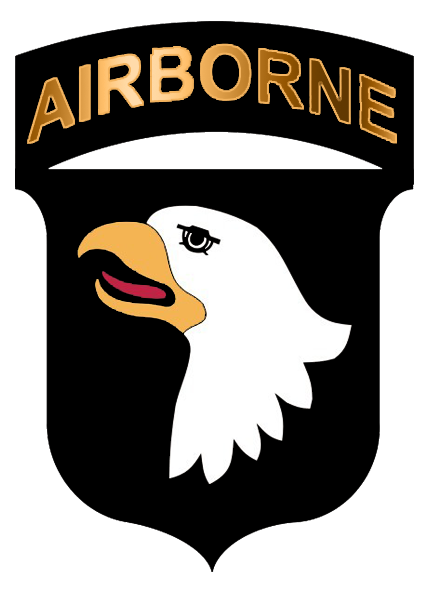 Nangarhar Province, Afghanistan – The Tennessee native casts an opposing silhouette against the night sky in eastern Afghanistan—standing  more than 6-foot-tall and weighing more than 215 pounds—but this baby-faced good ol' boy, with his southern drawl and easy-going attitude, is as friendly and hard working as they come.
Since arriving to Task Force Bastogne's Nuristan Province several months ago, U.S. Army Pfc. Raymond Cecil, a cannon crewmember, Battery A, 2nd Battalion, 320th Field Artillery Regiment, has already made a positive impression on his leaders.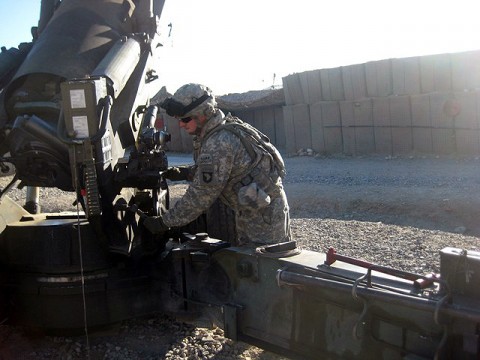 "He's an extremely motivated, competent and confident Soldier," said U.S. Army 1st Sgt. Jeremy Barton, Cecil's senior enlisted advisor for Battery A. "He is very respectful and is always in the thick of things. He is always learning and training and is excelling at his job. I am proud of Cecil and would love to have more Soldiers with his attitude, initiative and ability to learn and retain information."
To some, it's not surprising to hear Cecil, a 1st Brigade Combat Team, 101st Airborne Division Soldier, is doing so well. After all, he's the fourth generation in his family to join the military and deploy to war.
"When Cecil was in the third grade, his father was diagnosed with multiple sclerosis and was in and out of hospitals for treatment," explained Barton, a Clarksville, Tenn., native.
Cecil, 21, has known since he was a boy he wanted to join the military. But his father's debilitating disease, which snuck up on the family when Cecil was in elementary school, only slowed him down a little.
"It (kind of) got a little crazy," said Cecil. "It seemed like we spent almost every night in the [emergency room] or hospital. He has almost kicked the bucket on us a few times. It's not a fun thing to have happen to someone in your family—no disease is ever fun on a family."
A few years after learning his father had MS, when Cecil was only 12, came the attacks of September 11th, 2001. In response to those attacks, Cecil's father, who was a regional manager for Waste Management, was asked to assist in the clean-up efforts of the Pentagon in Washington, D.C. On his last day on the assignment, he fell from the back of a trash container, landed on a concrete road barrier and broke his back. The injury was the cause of many years of painful surgeries, and combined with his pre-existing MS, made him unable to go back to work. 
It was only a matter of time before Cecil decided to drop out of high school and start working full time to help support his family. After working only three years in various jobs, he decided it was time to join the military.
"Before I joined the Army I was (kind of) a jack-of-all-trades, I guess you would say," Cecil recounted. "I did construction and home maintenance, detailed cars, worked as a janitor. Hell, there isn't much good out there for someone who doesn't have a diploma."
At 19, he met with an Army recruiter who administered him the Armed Services Vocational Aptitude Battery test. He enlisted in the Army February 13th, 2009, and left for the Army Preparatory School at Fort Jackson, SC, June 1st, 2009. 
After obtaining his GED diploma at Fort Jackson, Cecil shipped out to Fort Sill, OK, where he completed Basic Training, followed by Advanced Individual Training to be a cannon crewmember. 
"A cannon crewmember wasn't my first choice," Cecil said, "but it was that or the infantry when I went to (the Military Entrance Processing Station). It's an okay job, I guess. It's better than scrubbin' floors," Cecil joked.
Just days after completing all his initial training, Cecil arrived at his first duty assignment with Battery A, 2nd Battalion, 320th Field Artillery Regiment at Fort Campbell, KY. A little more than a year later, he was sent to the Joint Readiness Training Center, Fort Polk, LA, in January, to prepare for war with his fellow Bastogne Bulldogs.
"My dad was very supportive and happy I was getting out of my crowd and dead end jobs," Cecil recalled. "My mother and sister cried and went crazy almost. They didn't like it at all for about a week or two, but they came around. My parents are both very proud of me. My dad doesn't worry too much, or at least that he lets on. My mom cries every time she watches the news, but she still knows I can handle whatever the Taliban throws at me," Cecil gibed.
May 26th would come to prove his father was right for not worrying too much, and that Cecil could, in fact, handle whatever the Taliban threw at him.
"There was a complex attack on our [forward operating base]," said Cecil. "Me and my section fought in an intense battle for a couple of hours. After that, you always feel good about yourself—that you made it out of something like that alive. It really builds trust in yourself, your fellow Soldiers and your leadership. I knew then I had the best chain of leadership in the Army because they had properly prepared me and the others for just that situation."
On this deployment, Cecil is responsible for manning an M198 howitzer as the assistant gunner. He is also a gunner on the 120mm mortar. His job, he said, is to defend his FOB and shoot the cannons to suppress the enemy when Soldiers are under attack on the battlefield.
Although Cecil realizes his mission here and the importance of it all, he still finds time to think about his dreams, goals and of his future.
"Some of my dreams might sound crazy, but I plan on doing every single one of them, because the minimum is never good enough," Cecil said. "I will climb Mount Everest one day, and when I get home, I plan on doing my first marathon."
His platoon leader, U.S. Army Capt. William Mayville, a Fayetteville, NC, native, has no doubt Cecil will do great things and is proud to have him on his team.
"Cecil is a go-to guy," admitted Mayville. "I think he feels satisfaction from the fact he is looked up to by his peers and his superiors look to him to get things done. It is the constant search for that feeling that is what drives him to be the best at whatever it is he is doing, and once that is complete, move on to the next level.
"He strives to be the best in every discipline of his profession," Mayville added.  "He is head and shoulders above his peers in terms of performance.  He's an absolute asset to his section and platoon. I wish there were more Soldiers like him."
As the days of his redeployment draw nearer, Cecil continues to excel within his platoon, but hopes his family back home in Nashville all know he's thinking about them.
"I'll be home soon," Cecil promises his family, "and don't y'all worry 'bout me; y'all know I can handle my own."