APSU Men's Basketball

Memphis, TN – Austin Peay State University's upset bid came up short, Thursday night, as No., 18/19 Memphis used a trio of overtime three pointers to hold off the Governors, 70-68, in non-conference action played at the FedExForum.
The loss dropped the Governors to 6-6 on the season as they resume Ohio Valley Conference action 7:00pm, Saturday against Eastern Kentucky. Memphis, meanwhile, improved to 8-1 on the season.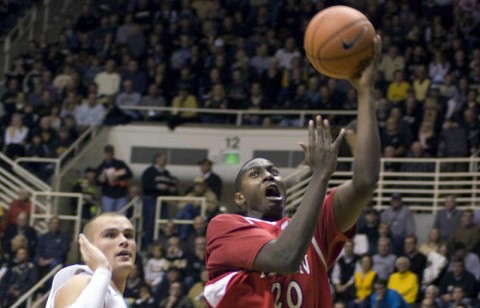 With the score tied 56-56 at regulation's end, APSU scored overtime's first two points on Josh Terry free throws. But Memphis responded with three straight three pointers while APSU could answer with just a pair of two pointers.
Then forward Will Coleman scored the Tigers' only two pointer, working inside to make it a 67-62 contest with 1:00 left. Then a Tiger free throw extended the Govs deficit to six points.
The Governors' Melvin Baker knocked down a three pointer to make it three-point game, 68-65, with 28 seconds left.  The Tigers then could hit only one of two free throws with 25 seconds left before the Govs Justin Blake nailed another three pointer to make it 69-68 contest with 13 seconds left.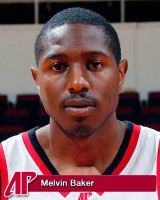 Again the Govs fouled immediately and again the Tigers cooperated by making just one of two free throws, providing APSU one final chance to either tie or win the game. The Govs went for the win but Blake, with a defender flying out towards him, was forced to double clutch his three-point shot. It missed and rolled out of bounds with 0.7 seconds left. APSU could not get off a shot as the time expired. 
The contest proved to be one of two teams showing the aftereffects of finals week. APSU shot just 31.1 percent (23 of 74) from the floor, including 17.9 percent (7 of 39) in the first half, while Memphis  shot only 41 percent (23 of 56).
However, it also was a game of runs. Memphis used a 12-2 first half-run to build a 24-14 lead. The Govs, meanwhile, closed the half scoring the final five points to give them hope at 24-19. Then APSU continued that momentum to open the second half, scoring the first 16 points, making it an overall 21-0 run as the Governors bolted to a 35-24 advantage. Charles Carmouche stopped the run with a three but that didn't halt APSU's momentum.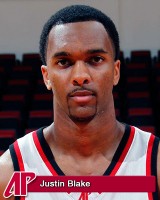 The Govs would build as much as a 43-28 lead with 13:35 left when Blake nailed a three pointer.
But then it was Memphis turn to chop away. In fact, in less than five minutes Memphis went on a 19-4 run to tie the game at 47-47 with 6:35 remaining. Then it became a tightly contested game the rest of regulation as neither team led by more than three points while the game was tied three more times, the final one when Antonio Barton literally three a running hander with 14 seconds left. That only came after the Governors fumbled a defensive rebound out-of-bounds..
The Governors had one final chance to win the game in regulation, but TyShwan Edmondson, who finished with a game-high 22 points, saw his chance at a game-winner blocked by Tarik Black in the lane.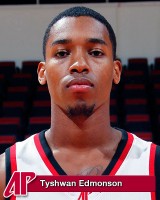 Edmondson recorded his season's second double-double, scoring 18 of his points after intermission to go with 10 rebounds.
Fellow junior Melvin Baker enjoyed his season's finest performance, scoring 17 points while grabbing a game-high 11 rebounds for his first double-double.
The Governors outrebounded the taller Tigers, 51-41, the 51 rebounds representing a season-best. The Govs also collected a season-high 15 steals, five from Terry.
Crawford finished with 18 points for Memphis while Carmouche added 16.