APSU Women's Basketball

Clarksville, TN – Austin Peay will lift the curtain on the home portion of its Ohio Valley Conference schedule when it hosts Eastern Kentucky in a 2:00pm, Sunday contest at the Dunn Center.
Austin Peay is still seeking its first home victory this season after losing its first three home affairs. The Lady Govs dropped a 69-42 decision to Bowling Green, December 11th, in its last outing at the Dunn Center. Austin Peay again won the rebounding battle, 40-34, but continued to suffer from their sudden shooting slump. The Lady Govs shot a season-low 26.9 percent from the field, the second consecutive game they have shot a season low.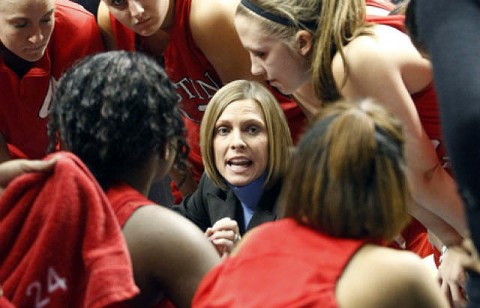 Sophomore Meghan Bussabarger posted her fourth consecutive double-digit scoring outing, leading the Lady Govs in both scoring (14) and rebounding (seven). No other Lady Govs player reached double digits in scoring. Junior Whitney Hanley finished with eight points and three steals while freshman Nicole Olszewski added five points and five assists.
Austin Peay reenters the OVC fray with a 1-1 conference mark after splitting a pair of road contests at month's start. The Lady Govs defeated Southeast Missouri, 65-57 on December 2nd,  before bowing to Eastern Illinois, 79-58, two days later.
Eastern Kentucky also returns to action following an extended break after a 61-52 loss at Central Arkansas, December 11th.  The Lady Colonels relied heavily on its bench in that contest with 33 of its 61 points coming from non-starters. Coming off the bench, freshman Marie Carpenter led the team with 14 points and senior Nadia Mossong added 12 points and seven rebounds. Sophomore Alex Jones led the starters with eight points and seven rebounds.
Jones leads the Lady Colonels in scoring (15.6 ppg) and rebounding (9.9 rpg) while making 50 percent of her field-goal attempts. Carpenter ranks second on the team in scoring (12.1 ppg) while sophomore Brittany Coles is third (10.5 ppg).
Eastern Kentucky also stands at 1-1 in OVC play after opening the league schedule at home. The Lady Colonels defeated Murray State, 83-73 on December 2nd, before falling to UT Martin, 61-46, two days later.
Key Notables From Lady Govs vs. Bowling Green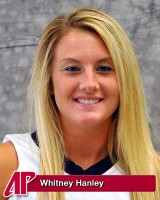 Junior guard Whitney Hanley had trouble finding her shot, scoring just eight points on 3-of-10 shooting from the field. That effort included an 0-of-6 outing from three-point range. Hanley finished with three steals and four rebounds.
Sophomore forward Meghan Bussabarger led the Lady Govs in scoring (14) and rebounding (seven). It was her fourth consecutive double-digit scoring effort. It also was the first time she has led APSU in rebounding during her career.
Jasmine Rayner, who was coming off a double-double, was held scoreless and only had six rebounds. It was Rayner's first scoreless game since the 2008-09 season… breaking a streak of 45 consecutive games with a point.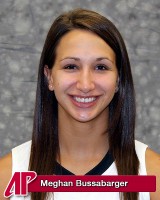 Austin Peay won the rebounding battle, 40-34, and has outrebounded its last two opponents by a 93-66 margin (+13.5 rpg).
The Lady Govs set season lows in scoring (42), field-goal percentage (26.9) and three-point field goals made (three). It is the second consecutive game APSU has shot a season-low percentage from the field.
Bowling Green set opponent season highs for three-point field goals made (14) and attempted (30). However, they were just 10-of-26 (38.5 percent) from inside the arc.
Next Up: Morehead State
Austin Peay closes out the pre-Christmas portion of its schedule with a 5:15pm, Tuesday contest against Morehead State. The Lady Govs lost both regular-season meetings to the Eagles before posting a seven-point victory in the OVC tournament semifinals last season.
Carrie Daniels Show, Wednesday
The Carrie Daniels Show tips off with a 6:00pm, Wednesday show live from Edwards Steakhouse on Franklin Street in Clarksville.
Hosted by Brian Rives for the third consecutive season, the show will air live on WVRY 105.1 FM and be simulcast over the internet at www.LetsGoPeay.com.