Consumer Reports Last-Minute Shopping Poll


Yonkers, NY – While more than half (56%) of Americans had dutifully completed their holiday shopping by December 19th, nearly one in five hadn't even begun. As a result, those stragglers will be out in force on Christmas Eve, with an estimated 10 percent of consumers hitting the malls in a last-ditch attempt to beat the deadline, according to a nationally representative Consumer Reports Holiday Shopping Poll. 
With the countdown running to the 25th, more than half of the dawdlers (51%) think there's still plenty of time. Money concerns were cited as a key reason for their late start, but 21% are putting it off simply because they can't stand to shop. The full results of the poll are available at www.ConsumerReports.org.
"Many experts predicted 2010 would be the year of Internet shopping, with consumers taking to the keyboard instead of the stores because of the supposed great deals and multitude of free-shipping offers," says Consumer Reports' senior editor and shopping expert Tod Marks. "But all the buzz about the Internet commerce may have been overstated. To date, some 43% of consumers have shopped exclusively at walk-in stores for gifts, while only 3% shopped online exclusively."
As the desperation to finish off those gift lists builds, shoppers may want to turn to merchants off the beaten path as a source of the perfect present: About a third of Americans have bought gifts for friends, family, and co-workers at drugstores (39%), supermarkets (34%), gas station or convenience stores (13 %). Another 9 percent bought their gifts from street vendors, and very small percent told Consumer Reports they had bought gifts at airports (4%) and even from a vending machine (1%).
Slackers who fail to finish their shopping in time have some explaining to do. According to the Consumer Reports poll, the most common way Americans try to smooth things over with those they've slighted are to promise a future gift or give an IOU (46%); shrug off the oversight as if it didn't happen (36%), concoct an excuse (31%), or re-gift a present the offender received from someone else (15%). Eight percent took the easy way out; they just avoided the other person and   6 % of scramblers, admit to buying a last minute gift they knew the receiver will want to return.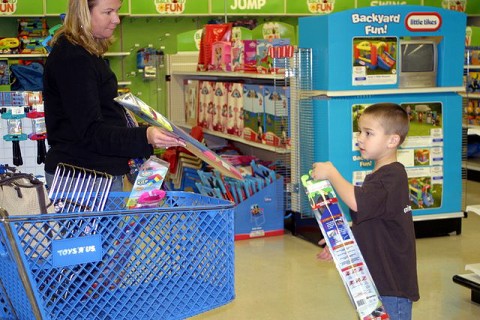 Whatever happened to that old saying it's better to give than receive? Many Americans (42%) say that they give more presents than they receive from others. Only 19 percent say they get more than they give.
When time is running out, gift cards become the go-to present for 43% of shoppers. Most people at least manage to make it to the store to pick up that gift card, however, one in five (20%) go online for an e-gift card, the ultimate choice for slow pokes. After gift cards, survey respondents cited cash (20%) as the most popular last minute gift to give. 
If all else fails, last minute shoppers can opt for the gift of chance. Sixteen percent of Americans told Consumer Reports they give lottery or scratch-off tickets as gifts or stocking stuffers and 3 percent of shoppers say the lottery is their last minute go-to gift in a pinch.
Last-Minute Shopping Tips:
Some shoppers may be frantic trying to finish (or perhaps they are just getting started) their holiday shopping during this big weekend. Here are some important things to keep in mind when braving the stores.
Check return policies.  Although it seems like a no brainer, 46 percent of shoppers who buy in  stores actually don't bother to check the retailer's return policy before making a purchase.  Add the stress of last minute shopping to the mix and consumers may end up with an unwanted item that may be difficult to return.
Get a gift receipt.  Some retailers may implement more lenient return-policies during the holiday season; other merchants won't accept returns without a receipt.  More than half of shoppers reported that they typically don't give a gift receipt with their presents.
Be wary of instant credit.  Some shoppers may be enticed by savings offered by opening a store charge card, but most aren't inclined to bite on these offers. Only seven percent of Americans reported that they did so last year to save on purchases.
Consumer Reports Holiday Shopping Poll Methodology
The Consumer Reports National Research Center conducted a telephone survey of a nationally representative probability sample of telephone households.  1,011 interviews were completed among adults aged 18+. Interviewing took place over December 16th-19th, 2010. The margin of error is +/- 3.1% points at a 95% confidence level.