Clarksville, TN – On December 25th, 2010, around 2:42am, officers responded to a Domestic in Progress at 1488 Buchanon Drive.  When officers arrived they found Timothy Andrew Putnam and Samantha Marie Miller inside of the residence.
Samantha Miller had sustained a gunshot wound to the head. Two juvenile witnesses in the house advised that Miller and Putnam were arguing and fighting and during the fight, Putnam had a gun in his hand and had their mother by the hair.
The witnesses called Police and went to a different part of the residence until Police arrived. When Police arrived, Putnam told them he had shot Miller by accident.
Putnam and Miller have a relationship and are living together.
The victim Samantha Marie Miller, W/F, 34, of 1844 Buchanon Drive had life-threatening injuries and was by transported ambulance to Gateway and then on to Vanderbilt.  She is extremely critical. 
Timothy Putnam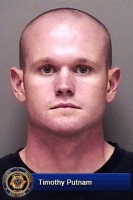 Name: Timothy Andrew Putnam (W/M)
DOB: 5-15-83
Given address: 1844 Buchanon Drive, Clarksville, TN 
Booked Into: Montgomery County Jail
Charged With: Criminal Attempted Homicide
Bond: He is being held without Bond.
Photo Gallery