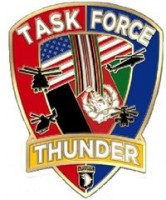 Fort Campbell, KY – The 563rd Aviation Support Battalion. 159th Combat Aviation Brigade of the 101st Airborne division gathered together on Fort Campbell yesterday to recognize one of their own.
Specialist Leandro Garcia was presented with an Air Medal for Exceptionally Meritorious Service in Aerial Flight in support of Operation Enduring Freedom 9-11, as well as a Purple Heart for injuries he sustained when his helicopter was shot down while flying a mission in support of Observation Post (OP) Restrepo in the Korengal Valley in Afghanistan.
The awards were presented to Specialist Garcia by  Major General Francis "Frank" Wiercinski the Senior Commander for Fort Campbell, 159th Combat Aviation Brigade Commander Colonel Kenneth T. Royar,  and 563rd Aviation Support Battalion Commander Lieutenant Colonel John L. Smith.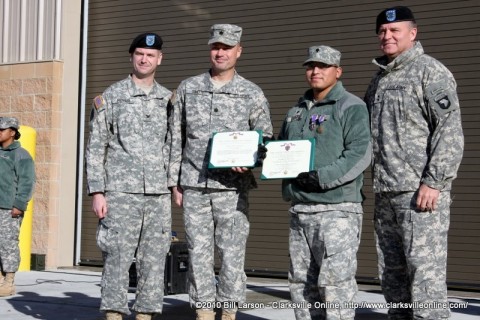 Colonel Kenneth T. Royar's Remarks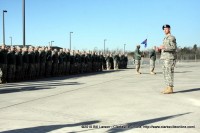 We have a great opportunity today to recognize an outstanding soldier.

Specialist Garcia is like every one of you. He raised his right hand to do his job at a time and place when the nation needed it.

Is it (unintelligible) that as we as a formation gets ready to deploy here over the next month for our next rendezvous with destiny that we recognize virtually the last soldier to be awarded an award from our last deployment. The point I want to make to you is that every soldier's contributions is important, every soldier's contributions is recognized, and that is absolutely indicative of this great battalion.

So today we are going to have the opportunity to finally recognize Specialist Garcia for his actions during the last deployment. But it is representative of what all of you will do in the coming months. The Division, the Sergeant Major, and my self; we are all proud of you. Not only for what you have done, but for what we know that you will do in the future.
After the remarks it was time for the presentations
Combat Air Medal
Specialist Leandro Garcia is awarded the Air Medal from 15 December 2008 to 14 June 2009 for exceptionally meritorious service in aerial flight in support of Operation Enduring Freedom 09-11. Specialist Garcia's personal courage and commitment to mission accomplishment in a combat zone, under the most extreme of circumstances, greatly contributed to the success of Operation Enduring Freedom. Specialist Garcia's performance reflects great credit on him, Task Force Palehorse, Task Force Thunder, Combined Joint Task Force-82, and the United States Army.

Signed
Curtis M. Scaparrotti
Major General, U.S. Army
Commanding
Purple Heart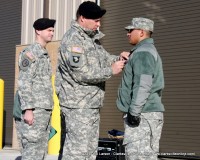 Specialist Leandro Garcia is awarded the Purple Heart for injuries sustained in combat in support of Operation Enduring Freedom 09-11. During a mission to OP Restrepo in the Korengal valley, Specialist Garcia's CH-47 was hit with RPG and small arms fire, setting the aircraft on fire, forcing the pilots to make a hard landing outside of OP Vegas.

Signed
Curtis M. Scaparrotti
Major General, U.S. Army
Commanding
On 17 January 2009, SPC Garcia's CH-47 was supporting a resupply mission in the Korengal Valley.
The aircraft was enroute to Observation Post Restrepo with a three point sling load of Class I (food and comfort items) and Class III (fuel) materials.
At approximately 2200 hrs the aircraft took a RPG (rocket-propelled grenade) round in the rear port side fuel cell which immediately caught on fire. Fire started to spread in the cabin. The flight engineer began to fight the fire as SPC Garcia continued to scan his sector for threats.
The pilot in charge turned the aircraft to Observation Post Vegas, and SPC Garcia began looking for a suitable emergency landing zone while the flight engineer continued to fight the fire in the cabin.
The aircraft landed about 200m-300m away from OP Vegas. The rear of the aircraft hit a stump causing the aircraft to roll onto its right side.
SPC Garcia was knocked unconscious during the hard landing and aircraft rolling. After regaining consciousness, SPC Garcia found that he was trapped under debris and after a few attempts successfully managed to get out from under the debris and exited the aircraft.
The importance of  these kinds of support missions was made clear in the documentary film Restrepo by Sebastian Junger & Tim Hetherington, which chronicles the deployment of a platoon of U.S. soldiers to OP Restrepo in Afghanistan's Korengal Valley.
Sebastian Junger and Tim Hetherington's year dug in with the Second Platoon in one of Afghanistan's most strategically crucial valleys reveals extraordinary insight into the surreal combination of back breaking labor, deadly firefights, and camaraderie as the soldiers painfully push back the Taliban.
Photo Gallery
About Specialist Leandro Daniel Garcia III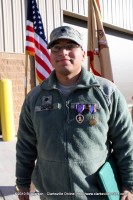 Specialist Leandro Daniel Garcia III was born March 2nd 1985. He grew up in Lemoore California.  He joined the Army at the age of 19 in 2004. He attended basic training and AIT training at Fort Knox Kentucky. After training he was assigned to the Alpha Company of the 563rd Aviation Support Battalion at Fort Campbell Kentucky. He reenlisted in 2008. During his service Garcia was deployed to both Iraq and Afghanistan, where he served as a door gunner on a Chinook Helicopter with the 7-17th Calvary Squadron.  Garcia is scheduled to leave the Army at the end of the month. He currently plans on going to school to study nursing.
Awards
Air Medal
Purple Heart
Good Conduct Medal
National Defense Service Medal
Afghanistan Campaign Medal x2
Global War on Terrorism Service Medal
Army Service Ribbon
NATO Medal
Combat Action Badge
Aviation Basic Badge
About the 159th Combat Aviation Brigade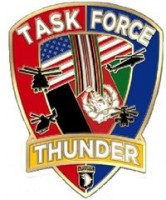 The 159th Combat Aviation Brigade was originally formed in 1997 as the 159th Aviation Brigade (Assault), 101st Airborne Division (Air Assault). Between 1997 and 2001, the Brigade deployed units to Bosnia, Kosovo, Trinidad and Tobago, and Central America. Following 9/11, elements of the Brigade deployed to Afghanistan in support of Operation Enduring Freedom. In 2003, the 159th deployed in support of Operation Iraqi Freedom.
Under Army Transformation, the unit was re-designated as a combat aviation brigade in 2004. Following its re-designation, the 159th CAB deployed again to Iraq in 2005.
In December 2008, the 159th Combat Aviation Brigade, Task Force Thunder, deployed to Afghanistan in support of Operation Enduring Freedom. Headquartered out of Bagram Airbase, the brigade task force provided full spectrum Aviation Support to CJTF-101, CJTF-82, CJSOTF, USFOR-A, and International Security and Assistance Forces (ISAF) arrayed across an Area of Responsibility the size of Texas.
The 159th Combat Aviation Brigade assumed responsibility as the only U.S. aviation brigade operating in Afghanistan in support of Operation Enduring Freedom 09-11. Due to the decentralized nature of the fight, the limited aviation assets in theater, and the vast geographic expanse requiring aviation support, the Brigade established four distinct multi-functional task forces based out of Bagram, Jalalabad, Salerno, and Kandahar with follow-on establishment at Shank. The joint, coalition-based task force included 138 rotary-wing aircraft, 7 un-manned aerial systems, and 28 various fixed-wing aircraft, with an oversight relationship for Polish, French and Czech Aviation units.
In 2009, the Brigade Task Force provided both direct and general support, as well as full-spectrum aviation operations, to all regional commands operating in Afghanistan. Task Force Thunder flew more than 136,000 flight hours, conducted more than 509 deliberate air assaults and executed more than 3,700 air movement operations. These operations resulted in the movement of more than 132,000 Soldiers and 6,574 tons of cargo. In addition, the unit executed more than 2,400 MEDEVAC missions, moving more than 2,800 patients from point of injury to appropriate care facilities.
Flying in support of all U.S. military services, as well numerous coalition partners across Afghanistan, the Brigade contributed significantly to ongoing counter-insurgency operations in Afghanistan, furthering the influence and legitimacy of its newly established government, and protecting the Afghan People.
The 159th Combat Aviation Brigade is continually at the forefront of Army Aviation. Honor, duty, and innovation are the hallmarks of the Soldiers who continue the proud tradition as the Thunder Brigade continues to "Press On" for America's Army and the United States of America.