APSU Women's Basketball

Nashville, TN – Austin Peay women's basketball team ends its six-game road trip with a 5:30pm, Saturday, Ohio Valley Conference contest against Tennessee State at the Gentry Center.
The Lady Govs return to the road after a week layoff following their 71-55 victory at Murray State, last Saturday. That win stopped a season-long four-game losing streak by Austin Peay and was its first victory during the current road trip. After falling behind 14-2 in the game's first six minutes, the Lady Govs rallied to end the opening half with a 33-8 run that gave them a 13-point halftime lead which they did not relinquish.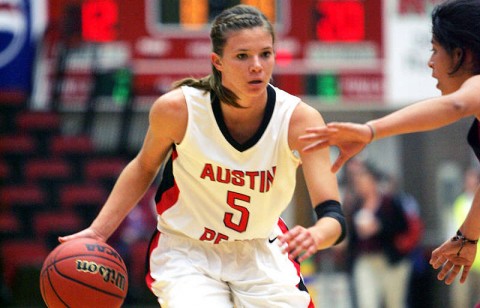 Junior Whitney Hanley posted her season's second double-double, finishing with 16 points and a team-best 12 rebounds. Meanwhile, two Lady Govs freshmen – guard Nicole Olszewski and forward Shyra Brown – combined for 31 points, 11 rebounds and five steals.
Tennessee State returns home after completing a four-game road trip which it ended with a 70-60 loss at SIU Edwardsville, Tuesday. The Lady Tigers had few answers for Cougars center Raven Berry, who finished with 20 points and 10 rebounds. An 18-8 disadvantage at the free-throw line further helped to sink TSU's road trip finale.
Sophomore Avery Jones led Tennessee State with 16 points and nine rebounds, making 7-of-8 from the field. Senior Meredith Stafford put together an all round effort, finishing with 13 points, five rebounds, four assists and three steals.
Key Notables From Lady Govs at Murray State
Freshman Nicole Olszewski led the Lady Govs with a game-high 17 points, marking the second time this season the freshman led Austin Peay in scoring. It was her fourth-career double-figure game and her third in OVC play.
Junior Whitney Hanley recorded her season's second double-double, scoring 16 points with a game-high 12 rebounds.
Freshman Shyra Brown – in her second game this season – came off the bench to score 14 points in 15 minutes while also grabbing six rebounds.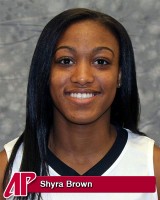 The Lady Govs two starting forwards – senior Dalila Thomas and junior Jasmine Rayner – scored a combined eight points and 12 rebounds. The team's two forwards off the bench – sophomore Meghan Bussabarger and freshman Shyra Brown – combined for 22 points and eight rebounds.
Despite the turnover battle ending up a dead-heat (19-19), Austin Peay scored 17 points off turnovers compared to the Racers eight points.
Austin Peay posted season-highs in free-throws made (22) and attempted (29). The Lady Govs guards attempted 14 free throws (made 10) while the team's forwards attempted 15 (made 12).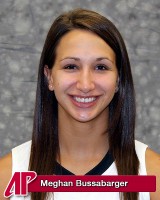 The Lady Govs won despite shooting 37.9 percent from the floor. It was the 11th time Austin Peay shot below 40 percent this season, but the first time they did so and won.
Austin Peay held Murray State to opponent season-lows in scoring (55), field-goals made (15) and field-goal percentage (26.3).
The Racers made 6 of their first 9 shots from the field in the first six minutes to build a 14-2 lead, but made just two field goals (24 tries, 8.2 percent) in the final 14 minutes of the period, which APSU closed with a 33-8 run.
About Austin Peay
Junior Whitney Hanley leads Austin Peay in scoring, averaging 13.2 points per game, while also leading the team with 52 assists (3.1 pg). She also ranks second in rebounding (5.8 rpg) with two double-doubles to her credit this season.
Hanley also leads the Lady Govs with 33.8 minutes played per game. She is one of six players averaging more than 20 minutes per game – but the only one averaging more than 30 minutes per game – and 11 players are averaging more than 10 minutes per game.
Austin Peay freshman Nicole Olszewski has made an impact this season, averaging 7.6 points, 2.9 rebounds and 2.6 assists per game. She has been joined by fellow freshman Shyra Brown who scored 14 points and grabbed six rebounds in her second collegiate game. She missed the season's first 16 games due to an injury.
The Lady Govs defense continues to be one of their biggest concerns. Austin Peay was ranked 299th (out of 333 teams) in field-goal percentage defense the NCAA's January 9th rankings, allowing opponents to make 42.9 percent of their field goals. APSU was 298th (out of 333 teams) in field-goal percentage defense among all Division I programs last season.
Austin Peay had another dismal non-conference season, finishing its 12-game slate with just one victory for the second consecutive year. The Lady Govs lone non-conference victory was a November 20th win against Utah Valley in the Preseason WNIT Consolation Round. That win ended a 13-game non-conference losing streak. APSU finished this season's non-conference slate with eight consecutive losses.
Next Up: Tennessee Tech
Austin Peay and Tennessee Tech renew their long-lived series with its 73rd meeting, Thursday, in Clarksville. It will be the 33rd meeting between the two teams in Clarksville, where TTU leads 25-8. APSU has won the last three meetings at the Dunn Center, including a 68-57 victory in the first round of the 2010 OVC Women's Basketball tournament.
The tipoff of the Lady Govs January 20th contest against Tennessee Tech has been moved to 8:15pm to accommodate the men's game which will be played at 6:00pm and aired on ESPNU.
Next Carrie Daniels Show, Wednesday
The Carrie Daniels Show returns with a 6:00pm, Wednesday, January 19th, show live from Edwards Steakhouse on Franklin Street in Clarksville.
Hosted by Brian Rives for the third consecutive season, the show will air live on WVRY 105.1 FM and be simulcast over the internet at www.LetsGoPeay.com.