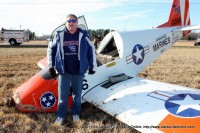 Clarksville, TN – Robert B. Eley of Clarksville, TN was flying his SONEX, a fixed Wing single-engine aircraft at 1,500 feet around 1:00pm this afternoon when it lost power. "I throttled down, and when I went to throttle up again, it wouldn't go,"  he said. The loss of power meant that the plane would not be able to make the nearby airport, and Eley had to set it down as soon as possible. A typical plane at 1,500 feet with no power would glide for around 2 miles, and would stay aloft for roughly 3 minutes.
Eley located a long field  at 3925 Sango Road that was divided by a raised gravel driveway to set down on. He intended to make the landing just beyond the gravel drive. The plane was unable to make it that far, making the initial contact with the ground about 30′ from the driveway. Rolling forward, the plane reached the raised roadbed, where the wheels struck the driveway causing the plane to bounce up into the air. It then landed hard, and skidded to a stop approximately 20′ later. The pilot was uninjured, escaping with nothing more than bumps and bruises.

The Montgomery County Sheriff's Office, and East Montgomery Fire and Rescue Squad responded to the scene. After cordoning off the area, they contacted the FAA, and waited for them  to arrive to investigate the crash.
Gerald A. Mzrtelli, Jr. from the Flight Standards District Office in Nashville Tennessee was dispatched to the scene. Arriving approximately 45 minutes later, he surveyed the area. "We are ruling this a simple incident," he told Clarksville Online.  In aviation terms, an Incident is "An occurrence, other than an accident, associated with the operation of an aircraft that affects or could affect the safety of operations." He then released the scene, and said the aircraft could be returned to the owner.
Photo Gallery
About the SONEX Aircraft
SONEX is a basic and economical all metal two place monoplane. Designed to meet the needs of the European and Domestic sport aircraft markets, it can incorporate various light weight contemporary engines of 80 to 120 hp (engine package weight of less than 200 lbs.), and is perfectly suited to the new US Sport Pilot/LSA regulations. Outstanding performance is achieved through its clean aerodynamic shape and simple, light weight construction.