Marks Fourth State Park Golf Course to Receive Designation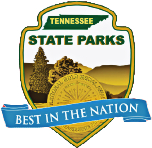 Pickwick Dam, TN – Environment and Conservation Commissioner Jim Fyke is pleased to announce that the Winfield Dunn Golf Course at Pickwick Landing State Park was recently recognized as a Groundwater Guardian Green site.  The Pickwick Landing course joins the Bear Trace at Harrison Bay State Park, Paris Landing and the Montgomery Bell golf course as one of the only four sites in Tennessee with this designation from The Groundwater Foundation.
Groundwater Guardian Green Sites are places with significant green space – such as golf courses, ball fields, educational campuses and office parks – that implement effective groundwater and surface water practices to protect water quality. Pickwick Landing's Winfield Dunn Golf Course documented an array of groundwater-friendly practices to earn this exclusive designation. The golf course is actively protecting local water supplies by optimizing fertilizer applications, applying natural organic products when possible and creating vegetative buffer areas around wetlands and shorelines. «Read the rest of this article»

Clarksville, TN – After successive Tuesday shows, the Dave Loos Show will return to its traditional 6:00pm, Monday time slot on 105.1 WVRY-FM, for the next three weeks, beginning this week.
Broadcast live from the Blackhorse Pub and Brewery on Franklin Street in historic downtown Clarksville, APSU's head coach and son David Loos, the Governors color commentator on broadcasts, will discuss the Governors' most recent road swing and upcoming home tilts, Thursday, against Tennessee Tech and Saturday versus Jacksonville State. The Govs currently sit in first place in the Ohio Valley Conference race. «Read the rest of this article»

Action Ends 8 Years of Insurance Litigation
Nashville, TN – The Tennessee Department of Commerce and Insurance's (TDCI) Commissioner, acting as statutory receiver, has secured several multi-million-dollar settlements for policyholders in relation to receiverships the Department initiated for the public's financial safety in 2003.
While the dollar amounts of the settlements are confidential, the receiver plans to file a proposal with the court to make an interim distribution to policyholders equal to 40 percent of approved claims in the near future. The interim distribution will be followed by an additional and substantial final distribution as claims become final. «Read the rest of this article»
Washington, D.C. – IRS Free File opened, January 14th, to start its ninth year of helping make taxes a little less taxing.
Everyone can use Free File, the free way to prepare and e-file federal taxes either through brand-name software or online fillable forms. Individuals or families with 2010 adjusted gross incomes of $58,000 or less can use Free File software. Free File Fillable Forms, the electronic version of IRS paper forms, has no income restrictions.
"Free File saves you money and time preparing and e-filing your federal tax returns," said Cecille M. Jones, acting director, Electronic Tax Administration and Refundable Credits. "Free File really does make taxes less taxing."
http://www.youtube.com/watch?v=tfav8adjGCg
«Read the rest of this article»
Fort Campbell, KY – The Screaming Eagle Medical Home, the community based medical clinic operated by Blanchfield Army Community Hospital (BACH), expands eligibility to now include three Clarksville and Adams, Tennessee zip codes. The clinic is located in Medical Office Building One, 647 Dunlop Lane, Suite 301, next to Gateway Medical Center.
Active Duty Family members living in the 37043 zip code should have already received letters offering them the opportunity to enroll to the Screaming Eagle Medical Home. Letters and enrollment instructions are now being mailed to active duty Family members living in the 37010 and 37040 zip codes. Some individuals living in the 37040 zip code may not receive their letters until early March to allow for phased enrollment success. «Read the rest of this article»
Nashville, TN – Roxann Fry, economic development specialist for the Tennessee Valley Authority in Kentucky, has earned the designation of Certified Economic Developer from the International Economic Development Council.
The certification recognizes mastery of economic development skills, professional attainment and commitment to personal and professional growth. The council has more than 4,500 members and is one of the world's largest organizations for professional economic developers.
"We congratulate and recognize Roxann as she reaches a career milestone by achieving IEDC-certified economic developer accreditation," said John Bradley, TVA senior vice president of Economic Development. «Read the rest of this article»
Five unexpected ways to save more in 2011

Some 55 percent of Consumer Reports readers said they were likely to include saving more money on their list of New Year's resolutions. To help you save more money, the experts at Consumer Reports Money Adviser's January issue offers the following tips:
Watch out for extra surcharges on rental cars. If you have a lead foot or aren't careful about feeding parking meters, you might find unexpected surcharges on your next rental-car bill. Advantage, Avis, Budget, and Hertz bill rental-car customers' credit cards a $30 administrative fee for violations including parking tickets, toll transgressions, and no-nos picked up by traffic cameras like running a red light. «Read the rest of this article»
Market Commentary by Scott J. Brown, Ph.D., Chief Economist
Scott J. Brown Ph.D., Chief Economist Raymond James Investment Services
The economic data remained consistent with a moderate pace of economic expansion. Retail sales rose 0.6% in December, up 0.5% excluding autos, boosted somewhat by higher gasoline prices. Industrial production rose 0.8%, aided by colder temperatures (utility output up 4.3%, manufacturing up 0.4%). As anticipated, headline inflation figures were boosted by higher energy prices in December and the impact was magnified by the season adjustment. The Consumer Price Index rose 1.5% in the 12 months ending in December, up just 0.8% ex-food & energy (vs. the Federal Reserve's implicit goal of around 2%). Jobless claims jumped, but the figures are normally choppy during this time of year (due to difficulties in the seasonal adjustment). «Read the rest of this article»
Clarksville, TN – American Floyd, a Pink Floyd tribute band will be performing two shows at the Austin Peay State University Music & Mass Communications Building. The first will be on Friday January 21st, and the second on Saturday January 22nd, at 7:30pm. Tickets are $25 each, and will be available at the door, or online at the band's website.
The band was formed to pay tribute to Pink Floyd, an English rocphk band, which initially earned recognition for their psychedelic and space rock music, and later, as they evolved, for their progressive rock music.The band is known for philosophical lyrics, sonic experimentation, innovative album cover art, and elaborate live shows. One of rock music's most successful acts, the group have sold over 200 million albums worldwide including 74.5 million certified units in the United States. American Floyd and this show pays homage to Pink Floyd with a full band and a sound and light show sure to entertain even the most loyal and ardent fan.
«Read the rest of this article»
APSU Track and Field

Carbondale, IL – Senior Chiamaka Obi led the Austin Peay State University women's track and field team at Southern Illinois' Saluki Open, Saturday, at the SIU Rec Center.
Obi finished second in the 400-meter dash (57.45) and 10th in the 200-meter dash (26.11) to highlight three Lady Govs top-10 finishes in the track events. Leigha Tolliver also earned an eighth-place finish in the 60-meter hurdles with a personal-best 9.44 time.
"Chiamaka had the best finish of the day," head coach Doug Molnar said, "but more importantly, she's ahead of where she was this time last year. If she can keep this up, she'll be in good shape at having a shot at an NCAA provisional mark."
«Read the rest of this article»