Written by By U.S. Army Sgt. Scott Davis
Regional Command-East Public Affairs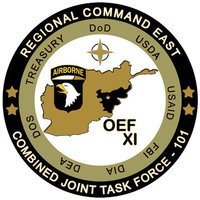 Bagram Airfield, Afghanistan – Spending Dr. Martin Luther King Day deployed to Afghanistan didn't stop Americans from celebrating it.

Servicemembers and civilians honored Dr. King with a five-kilometer run on January 15th and a held a series of event s on Monday.

U.S. Army Sgt. Maj.  Richard Williams, a Fort Campbell resident and operations sergeant major for Combined Joint Task Force-101 started Monday's events with a speech giving explanation as to why American citizens give a day a year to one man. "This holiday honors the courage of a man who endured harassment, threats and beatings. We commemorate the man who went to jail 29 times to achieve freedom for others, and who knew he would pay the ultimate price for his leadership but kept on marching."

Williams became teary-eyed in the closing of his speech.

"Whether you are African-American, Hispanic or Native American, whether you're Caucasian or Asian-American, you are part of the great dream Martin Luther King had for America. This is not a black holiday; it's a people's holiday and it is the young people of all races and religions who hold the key to the fulfilment of his dream."

The participants then went on a march around Bagram Airfield in memory of Dr. King's 54-mile march from Selma, AL to the state capital in Montgomery, Ala. demanding Congress remove barriers to the right to vote.

"I really appreciate the opportunity to celebrate Dr. Martin Luther King Jr. Day like this," said U.S. Navy Petty Officer 2nd Class Jake Liao, a San Francisco Bay native and a construction mechanic with the Naval Mobile Construction Battalion Aid Team. "He's such an inspiration to me, I mean look at what he did for Americans. He fought to fix the injustice of his time and I really admire him for that."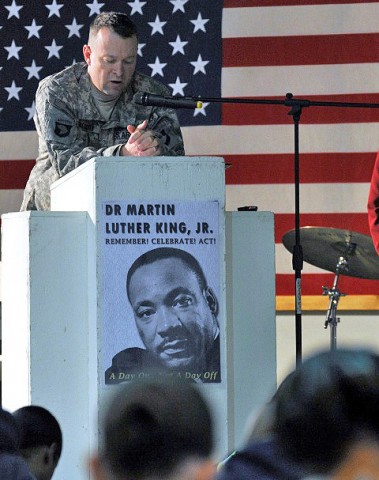 After the march, participants shared breakfast and listened to music by the 101st Airborne Division band, a rendition of the Star Spangled Banner by U.S. Army Spc. Daniella Beard, a cook with B Co., 101st Headquarters and Headquarters Battalion, 101st Airborne Division and the Enduring Faith Chapel's choir. They also watched a demonstration by the Enduring Faith Chapel's Mime Team and listened to speeches that memorialized Dr. King.
"Dr. King's vision of America is captured in his message of hope and possibility for a future anchored in dignity, sensitivity and mutual respect," said Lesa Rollins, the event's narrator. "This is a message that challenges each of us to recognize that America's true strength lies in its diversity of talents. "
In a time where Americans are fighting to overcome so many obstacles like a lack of jobs, a stressed economy and two wars, it may replenish hope and strengthen courage to reflect on how far the United States has come as a nation and to remember the words of a man who helped mold the values of today's America.
"Let us not wallow in the valley of despair, I say to you today, my friends. And so even though we face the difficulties of today and tomorrow, I still have a dream. It is a dream deeply rooted in the American dream," said Dr. Martin Luther King Jr.
Sections
News
Topics
101st Airborne Division, Afghanistan, Bagram Airfield, Daniella Beard, Dr. Martin Luther King Jr., Jake Liao, Lesa Rollins, Regional Command East, Richard Williams, Scott Davis