By Geneva Bell
When the Washington D.C.-based Female Re-Enactors of Distinction (FREED) come to the Clarksville area in February, members of the public, youth and adult, will have several opportunities to meet FREED, see them in their 1860s period costumes, and learn from FREED's historical interpretations of notable African-American women of the Civil War era.
With the exception of the February 5th Freedmen's Cotillion, the programs are free of charge.
On Friday, February 4th, the public is invited to a program featuring FREED at the Jefferson Davis State Historic Site, from 12:30pm to 3:00pm. Jefferson Davis State Historic Site is at 258 Pembroke-Fairview Road in Fairview, Kentucky. Park Manager Ron Sydnor can be reached at 270-889-6100. «Read the rest of this article»
APSU Women's Basketball

Clarksville, TN – With a two-game win streak in hand, Austin Peay women's basketball team will meet league-leading Tennessee Tech in a 8:15pm, Thursday nightcap at the Dunn Center.
The Lady Govs completed a six-game, 30-day roadtrip with a 60-45 OVC victory at Tennessee State, Saturday. Austin Peay used a 19-3 second-half run to break the game open after trailing the entire first half. The Lady Govs made just 38.5 percent (20-of-52) of their field goals, but held Tennessee State to 25.5 percent (14-of-55) shooting.
«Read the rest of this article»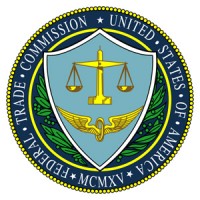 Washington, D.C. – If you own a car, you know how important it is to keep up with routine maintenance and repairs. But can a dealer refuse to honor the warranty that came with your new car if someone else does the routine maintenance or repairs?
The Federal Trade Commission (FTC), the nation's consumer protection agency, says no. In fact, it's illegal for a dealer to deny your warranty coverage simply because you had routine maintenance or repairs performed by someone else. Routine maintenance often includes oil changes, tire rotations, belt replacement, fluid checks and flushes, new brake pads, and inspections. Maintenance schedules vary by vehicle make, model and year; the best source of information about routine scheduled maintenance is your owner's manual. «Read the rest of this article»
APSU Men's Basketball

Clarksville, TN – Austin Peay will attempt to rebound literally and figuratively from its first Ohio Valley Conference defeat when Tennessee Tech comes to town, 6:00pm, Thursday for an ESPNU telecast.
The Governors are hoping to bounce back after losing in overtime to Tennessee State, 76-74, Saturday in Nashville. It was a contest the Governors could not finish off after leading by seven with 1:18 remaining.
And rebounding, or lack thereof, proved to be a deciding factor in the defeat as TSU out-rebounded the Governors, 52-37, including 20 offensive grabs. A TSU offensive rebound tied the game in regulation and another offensive snatch helped give the Tigers a four-point overtime lead.
«Read the rest of this article»
Written by By U.S. Army 1st Lt. R.J. Peek
Task Force Iron Rakkasan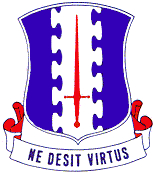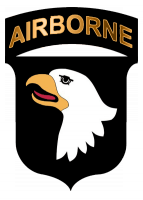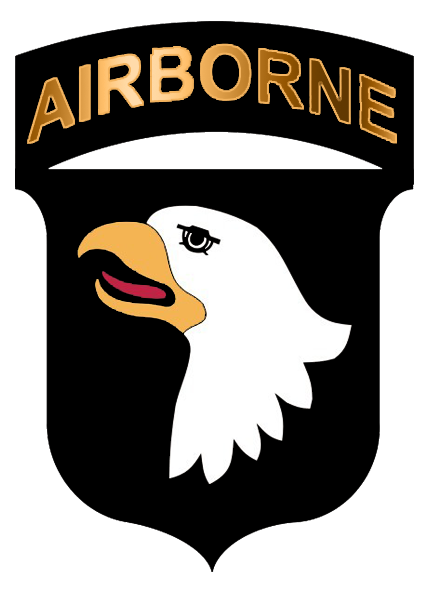 Ghazni Province, Afghanistan – The Afghan government and 3rd Battalion, 187th Infantry Regiment, 3rd Brigade Combat Team, 101st Airborne Division, are expanding their reach with a second Radio in a Box station at the Miri District Center in Andar Province.
The new station was recently established in the district subgovernor's building.
Within days of the first broadcasts, Sher Khan, Andar District subgovernor, conducted a live interview addressing the people's primary concerns and making them aware that he is doing all he can to help the local people. «Read the rest of this article»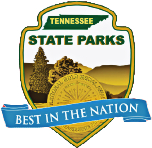 Nashville, TN – The Department of Environment and Conservation's Resource Management Division will host a guided winter hike at Taylor Hollow State Natural Area in Sumner County, on Saturday, January 22nd. Participants should meet at 10:00am at 671 Phillips Hollow Road in Westmoreland, Tennessee.
Roger McCoy with TDEC's Natural Heritage Inventory Program will take hikers along an established trail into the natural area's stream bottoms and then hike off trail up moderately steep slopes, finally descending back to the point of entry.  During the outing McCoy will share basic winter shrub and tree identification and forest ecology. In addition, hikers will get an opportunity to observe large trees, over-wintering basal rosettes of wildflowers, interesting fossils and potential ice formations at Taylor Hollow's small waterfall.  «Read the rest of this article»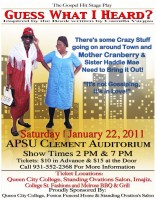 Clarksville, TN – The Gospel play "Guess What I Heard?" will be performed at the APSU in the Clement Auditorium on Saturday, January 22nd 2011 at 2:00pm and at 7:00pm. The play is based on the book written by Camilla Vargas. It  is produced, written, and directed by Treva R. Gordon; with writing assistance by Lavon Bravy. Associate directors include Alphonse & Benetta Prather, Lavon Bracey, and Jacqueline Lisenby.
Guess What I Heard is not your ordinary gospel music theatrical play. Comprised of 6 vignettes that touch on stalking in a relationship, baby momma drama, spousal cheating, spousal abuse, self esteem, & suicide. These stories are based in the real world, and are applicable to the lives of people in our community. «Read the rest of this article»
Clarksville, TN – Mayor Kim McMillan was presented an American flag on Tuesday that flew over headquarters of the 101st Airborne Division at Bagram Airfield in Afghanistan.
Maj. Gen. Frank Wiercinski, administrative senior commander at Fort Campbell, personally delivered the flag and a plaque to the Mayor's Office on behalf of Maj. Gen. John Campbell, commanding general of the 101st, who is currently in Afghanistan.
«Read the rest of this article»
Clarksville, TN – Clarksville Mayor Kim McMillan is attending the United States Conference of Mayors' winter meeting Wednesday through Friday in Washington, D.C.
The mayor learned on Saturday that President Obama plans to meet with the more than 250 mayors from across the country on Friday at the White House.
"I'm happy to be a part of the conference, and I look forward to learning as much as I can while I'm in Washington," McMillan said. «Read the rest of this article»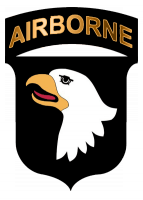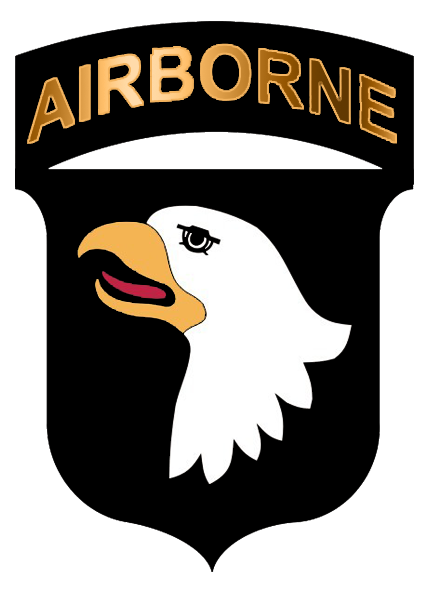 Fort Campbell, KY – The Real Warriors campaign, an initiative of the Defense Centers of Excellence for Psychological Health and Traumatic Brain Injury (DCoE), is partnering with the National Football League Players Association (NFLPA) to organize "Game Day" at Fort Campbell, January 23rd.    
Current and former NFL players will be on-hand to discuss common challenges with 75 Fort Campbell Warriors in Transition, who recently returned from an overseas deployment. Players, Soldiers and Families will watch the conference championship game Sunday, while turning their attention to common reintegration challenges facing service members as well as the resources available to address them.  «Read the rest of this article»