APSU Women's Basketball

Clarksville, TN – With a two-game win streak in hand, Austin Peay women's basketball team will meet league-leading Tennessee Tech in a 8:15pm, Thursday nightcap at the Dunn Center.

The Lady Govs completed a six-game, 30-day roadtrip with a 60-45 OVC victory at Tennessee State, Saturday. Austin Peay used a 19-3 second-half run to break the game open after trailing the entire first half. The Lady Govs made just 38.5 percent (20-of-52) of their field goals, but held Tennessee State to 25.5 percent (14-of-55) shooting.

Sohomore Meghan Bussabarger scored 12 points and grabbed 10 rebounds to post her first career double-double. Junior Jasmine Rayner made 50 percent of her field goals (4-of-8) to also finish with 12 points. Freshman Nicole Olszewski chipped in 11 points.

Tennessee Tech begins a four-game road trip with Thursday's contest. The Golden Eagles bring a three-game win streak to the Dunn Center after defeating Murray State, 77-61, Saturday. TTU was a perfect 15-of-15 at the free-throw line, posting a 12-point advantage at the line (Murray State was 3-of-11 from the stripe).

Eleven players scored in the victory, including a team-best 15 points by junior Tacarra Hayes. Freshman Molly Heady finished with a 10-point, 12-rebound double-double off the bench.
Conference Race Tight As Halfway Point Nears
With four weeks down in the 2010-11 OVC race, five teams are jumbled atop the league standings with just one-game separating them. Tennessee Tech leads the group with a 6-1 mark. Morehead State sits one-half game behind the Golden Eagles at 6-2 with one league game this week. Eastern Illinois, UT Martin and Austin Peay are tied for third place at 5-2. However, the Lady Govs would currently receive the league's fifth seed – and the resulting first-round game – as they have a loss to both EIU and UTM this season.
Key Notables From Lady Govs at Tennessee State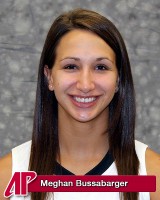 Sophomore Meghan Bussabarger recorded her first career double-double, finishing with 12 points and a career-high 10 rebounds.
Freshman Nicole Olszewski (11 points) scored more than 10 points for the second consecutive game and for the third time in the last four games.
After scoring more than 10 points in her last three outings, junior Whitney Hanley was held to six points in 25 minutes.
Austin Peay used a 19-3 second-half run to secure the victory. APSU's defense held TSU to 1-of-8 shooting and forced seven turnovers during the nearly eight-minute run.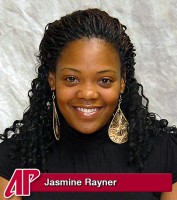 After holding Murray State to a then-opponent season-low 55 points, Austin Peay held Tennessee State to an opponent season-low 45 points.
Austin Peay won the turnover battle for the third time in its last five games, committing 23 turnovers while forcing 25 giveaways.
For the third time this season, Austin Peay won after trailing at halftime. It is the second time they have come from behind to post a win in OVC play.
Tennessee State made just 14 field goals and shot 25.5 percent (both opponent season lows) for the contest, but made 12-of-13 from the free throw line.
Next Up: Jacksonville State                         
Austin Peay and Jacksonville State will meet for the 17th time, Saturday, in the conclusion of APSU's current two-game homestand. Austin Peay won both meetings last season by a total of 13 points, including a 75-71 victory in Clarksville.
Next Carries Daniels Show, February 2nd
The Carrie Daniels Show will take a week off due to the upcoming "Death Valley" road trip, but will return with a 6:00pm, Wednesday, February 2nd, show live from Edwards Steakhouse on Franklin Street in Clarksville.
Hosted by Brian Rives for the third consecutive season, the show will air live on WVRY 105.1 FM and be simulcast over the internet at www.LetsGoPeay.com.
Sections
Sports
Topics
APSU, APSU Women's Basketball, Austin Peay State University, Carrie Daniels, Carrie Daniels Show, Dunn Center, Eastern Illinois, Golden Eagles, Jacksonville State, Jasmine Rayner, Lady Govs, Meghan Bussabarger, Molly Heady, Morehead State, Murray State, Nicole Olszewski, Tacarra Hayes, Tennessee State, Tennessee Tech, UT-Martin