APSU Men's Basketball

Clarksville, TN – With its two-game Ohio Valley Conference lead now evaporated in less than a week, Austin Peay is seeking answers to its recent struggles as Jacksonville State comes to town for a 7:30pm, Saturday contest.
The Governors, who saw a six-game winning streak end last Saturday at Tennessee State, now need a victory to avoid a three-game losing streak. The Govs, now in a first-place tie in the OVC race, still are reeling from their stunning 71-68 loss to Tennessee Tech, Thursday night, a game that saw APSU blow seven-point second-half leads on three different occasions.
On the surface, it appeared the Governors hung with the OVC's best rebounding team as the Golden Eagles held just a 39-36 advantage while both teams grabbed 15 offensive rebounds.
But Tennessee Tech pounded the offensive glass in the second half, turning 11 second-half grabs into 18 second-chance points. APSU's inability to snare a defensive rebound with 12 seconds left set up the Golden Eagles' game-winning shot.
Compounding the Govs' rebounding woes was APSU's worst offensive performance during OVC play. APSU shot just 35.6 percent (21 of 59) from the floor. APSU also committed 15 turnovers, its most of the New Year.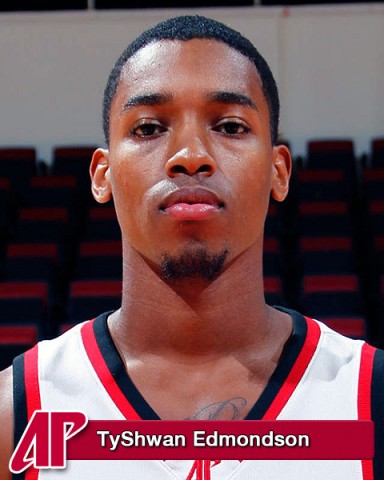 TyShwan Edmondson, despite sitting much of the first half with two fouls, finished with a game-high 25 points, scoring 20 in the second half. He also tied for the rebound lead with six.
However, only one other Govs reached double figures as John Fraley finished with 10 points.
The Govs will welcome a JSU team that nearly pulled off an upset against Tennessee State. The Gamecocks, who are just 2-17 overall and winless in the OVC, led much of the game, as much as 18 in the second half, before watching TSU come back late.
Nick Murphy and Jeremy Bynum combined for 35 points, including eight three pointers, in the defeat. Murphy, one of the OVC's top players, leads the team at 15.3 ppg while Bynum is at 11.8 ppg. Turnovers–23–helped lead to the Gamecocks undoing in the second half against TSU, now tied for first place in the OVC with the Govs.
What You Should Know
The Series: This is the 16th meeting between Austin Peay and Jacksonville State University, two Ohio Valley Conference foes, with APSU holding a commanding 14-1 lead. The Governors have won the last eight meetings in the series. APSU won both meetings a year ago, a 66-64 overtime decision in Jacksonville and 83-63 in Clarksville.
What A Win Would Mean: The Govs would rise to five games above the .500 mark at 13-8 before beginning the "Death Valley" swing next weekend. It would snap a two-game losing streak. It would make the Govs 7-2 in the OVC. It would give the Govs a 4-2 record in January. It would give the Govs a 6-2 home record. It would give the Govs a 3-1 OVC home record. It would give APSU a nine-game winning streak in the series. It would give APSU a 15-1 overall lead in the series. It also would be Loos' 426th career college coaching win and 344th APSU victory. It would make Dave Loos 5-0 against James Green.
What A Loss Would Mean: The Govs would drop back to three games above the .500 mark at 12-9. It would be the Govs third-straight loss, matching their season's longest. It would be the Govs' second-straight OVC home defeat. It would be the Govs secon ever loss in the series…it would drop APSU to 14-2 in the series. It would drop Dave Loos to 14-2 in the series. It would be Loos' 338th all-time loss and 285th APSU defeat.
Next Game
Saturday, January 27th at 6:30pm
McBrayer Arena, Richmond, KY – After sitting at 7-9 overall and 2-4 in the OVC, Eastern Kentucky ripped off three road victories prior to Saturday's ESPNU battle at Morehead State. In fact, EKU won four straight road games, only the second time that has been accomplished in Jeff Neubauer's coaching career at EKU. Balanced scoring and strong defense have aided the Colonel uprising. Spencer Perrin leads EKU at 12.2 ppg while Josh Daniel, who has been on fire of late, is at 11.5 ppg.