APSU Men's Basketball

Clarksville, TN – Austin Peay State University maintained a share of first place in the Ohio Valley Conference race as it defeated Jacksonville State, 80-66, Saturday night, in Dave Aaron Arena.
The Governors snapped a two-game losing streak in improving to 13-8 overall and 7-2 in the OVC. The Govs are tied with Tennessee State, who also won Saturday night, for first place.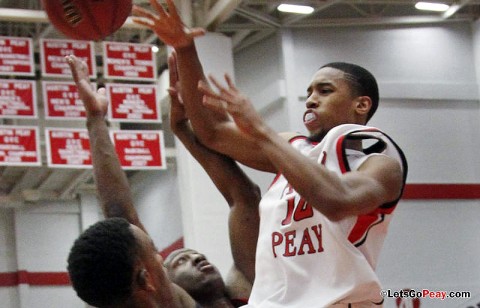 Jacksonville State drops to 2-18 overall and 0-9 in the OVC.
The Governors never trailed in the contest, jumping out to an early 12-4 lead. Jacksonville State tied the game at 15 all, but the Governors went on a 16-2 run that included seven points from OVC scoring leader TyShwan Edmondson and four more from Josh Terry.
After the Govs took a 37-25 intermission lead, Jacksonville State came back early in the second half. The Gamecocks clawed within five points, 41-36, after a B.J. Miller three pointer at the 17:33 mark of the second half and kept it to single digits for much of the second half's first 10 minutes.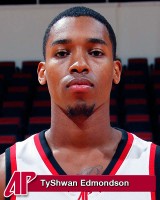 With the score 48-41, the Governors went on a 14-6 spurt, mostly from the free-throw line. In fact, the Governors, who have struggled at the free-throw line in recent contests, knocked down 15 straight free throws at one point in the final half to finish 20 of 24 (83.3 percent) in the second half (24 of 31/77.4 percent for the game). As a result, the Governors held a commanding 66-51 lead with 5:42 left.
Edmondson again led the Governors with 23 points—the 12th time he has scored 20 or more points—on 10-of-17 shooting. He also tied for the team lead in assists with four.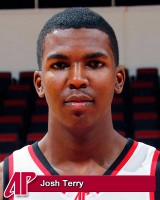 Terry snapped a two-game single-digit streak with 16 points on 7-of-13 shooting as the Govs shot an impressive 53.1 percent (26 of 49) from the free-throw ;line.
John Fraley also reached double figures for the second straight game with 11 points while freshman forward Will Triggs scored nine points and grabbed a team-best seven rebounds.
Nick Murphy led JSU with 18 points and a game-high eight rebounds while Jeremy Bynum added 10.
The Governors forced JSU, playing without injured point guard Dominique Shellman, into 21 turnovers.