APSU Men's Tennis

Chattanooga, TN – Austin Peay State University men's tennis team earned a 6-1 win at Chattanooga, Friday night.
Head coach Malik Tabet's young Governors team played high-energy tennis from start to finish and disposed of the Mocs with ease, unlike last year's nail biting 4-3 win in Clarksville. Freshman Jasmin Ademovic, who not only played No. 1 singles, but also team with freshman Remi Calleja for an exciting tiebreak win at No. 2 doubles, fueled the Govs in his first collegiate match.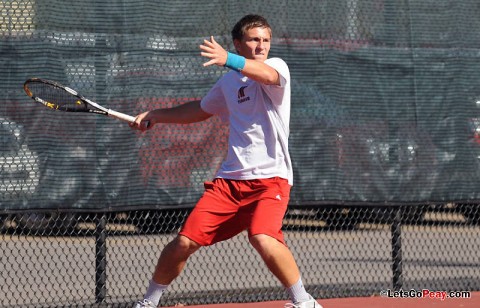 "Usually even with a win, I can find some technical things we need to work on and improve on," Tabet said. "The guys played solid tennis today and the things that I would normally want to work on, were refined today. That means we can move on to focus on strategy and defined playing; so that's an exciting place to be with the men."
Winning the doubles point was an emphasis for the Govs after struggling to gain the early momentum much of last season. Sophomores Sean Bailey and Henrique Norbiato picked up where they left off at No. 1 doubles, taking an 8-3 win against the Mocs.
When sophomore John Storie and freshman Joao Pagan lost at No. 3, the pressure set on Ademovic and Calleja. The pair never wavered at No. 2 doubles, despite winning the match in a tiebreak to take the point. Chattanooga even the tiebreak score at 4-4 before the young Govs rallied three straight points to wrap it up.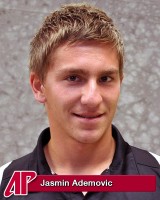 Ademovic would go on to pick up a straight-set win at No. 1 singles against Trent Cobb and Norbiato rolled to a quick win against Roberto Vieira – the 2010 Southern Conference Freshman of the Year. The Govs also would get a three-set tiebreak win from Bailey, at No. 3 and straight-set wins from Storie and Pagan at Nos. 5 and 6, respectively.
"It was the first match of the year and I was really happy with the way the guys came out," Tabet said. "We started with a high tempo and it got stronger throughout the match. Joao played a really good match at No. 6 and Jasmin really handled (Cobb) at No. 1. (Cobb) is a really good player and Jasmin did a good job with him."
Austin Peay 6, Chattanooga 1
Singles competition
Ademovic, Jasmin (APSU) def. Trent Cobb (UTC) 6-2, 6-3
Norbiato, Henrique (APSU) def. Roberto Vieira (UTC) 6-2, 6-0
Bailey, Sean (APSU) def. Chris Smith (UTC) 6-5, 3-6, 7-6 (8-6)
Jackson Tresnan (UTC) def. Calleja, Remi (APSU) 6-5, 6-4
Storie, John (APSU) def. William Disterdick (UTC) 6-3, 6-1
Pagan, Joao (APSU) def. Stephen Crofford (UTC) 6-4, 6-2
Doubles competition
Bailey, Sean/Norbiato, Henrique (APSU) def. Trent Cobb/Jackson Tresnan (UTC) 8-3
Ademovic, Jasmin/Calleja, Remi (APSU) def. Roberto Vieira/William Disterdick (UTC) 9-8 (7-4)
Stephen Crofford/Chris Smith (UTC) def. Storie, John/PAGAN, Joao (APSU) 8-3