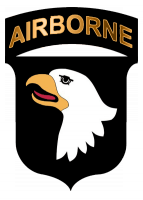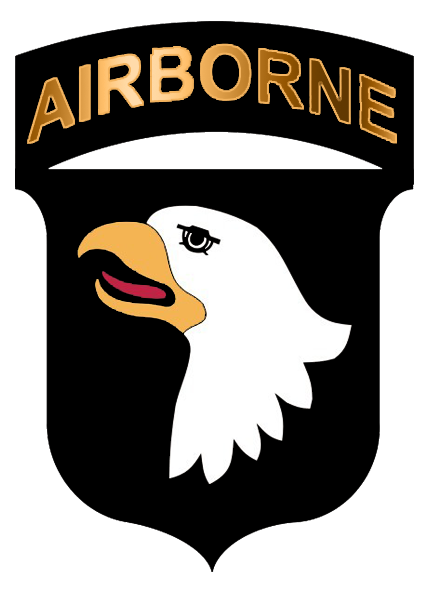 Fort Campbell, KY – In a flight that arrived just after midnight today, 199 Soldiers from three different 101st Division units returned from Afghanistan. The flight was comprised of 197 members of the 3rd Brigade combat Team (Rakkasans), 1 member of the 1st Brigade Combat Team (Bastogne Bulldog), and 1 member of the 101st Combat Aviation Brigade (Wings of Destiny).
Family and friends of the returning soldiers had gathered together to give their loved ones a proper welcome home.
When the plane arrived it was 23°  outside with a windchill of just 15° the wind was blowing at steady 4-7mph. Some of the army spouses were wearing dresses and skirts and were clearly suffering through the 15 minutes  standing outside waiting for the plane to touch down. Needless to say everyone was happy when it was time to go back in side.
The soldiers disembarked from the aircraft then assembled just out side, as their families returned to the warmth of the hanger. Then it was time for the soldiers to march into the hanger before the cheering crowd. After a short ceremony it was time for some quality family time. This was the first time many of these soldiers had seen their loved ones since early 2010.
One army wife was looking forward to re-introducing her husband to his two young daughters. "Baby you have two beautiful little girls who cannot wait to meet you! You have no idea what you are getting yourself into," she said.
He was able to meet his little girls when they were born but had to return to his unit when they were only two weeks old, and he hasn't seen them since. At the time they weighed only three pounds, because they were born seven weeks premature, now eight months later they weigh 14 pounds.
She continued, "He hasn't seen them in eight months, he has no idea what he is coming home to."
Approximately 925 Fort Campbell Soldiers are scheduled to return from Afghanistan this week. With the entire 101st Airborne Division (Air Assault) expected home by the end of June.
Several more flights are scheduled in the next week.If you are interested in attending a Welcome Home Ceremony, flights are scheduled for Wednesday, Thursday, and Saturday. Plan to arrive at least 2 hours early. Enter at Gate 7, and follow the signs. Hope to see you there!
Video
Photo Gallery