APSU Men's Basketball

Clarksville, TN – It only seems appropriate Austin Peay and Murray State will be battling for first place in the Ohio Valley Conference, 7:30pm, Saturday, in Dave Aaron Arena.
Since 1987 one or both teams have appeared in the OVC tournament title game. Since the turn of the century, the Govs have won four regular-season OVC titles while Murray State has won two, including last season. In other words the two programs have appeared in a multitude of intense ball match ups, some surrounded by controversy.
As a result, the Racers will elbow their way into the Dunn Center, Saturday, with a collective chip on their shoulders in hopes of returning the favor–handing the Govs a home loss and regaining first place.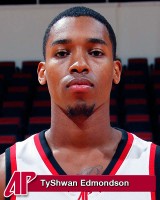 Up until last Saturday's win against UT Martin, Murray State had not had a player score 20 or more points. Now they have had players do the trick in consecutive games. Isaiah Canaan scored 24 points against the Skyhawks while on Thursday, forward Ed Daniel had 21 points at Tennessee State as the Racers prevailed on the road, 74-65.
Meanwhile, the Governors are coming off an impressive 82-53 home victory against UT Martin, especially impressive after the Governors suffered through a disappointing performance at Morehead State last Saturday in a 69-56 defeat.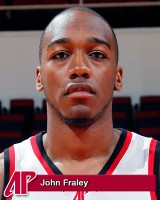 The Governors watched UT Martin score the game's first two points and then scored 17 of the next 18 themselves. The game, for all purposes, was over at halftime.
OVC scoring leader TyShwan Edmondson, who struggled to a pair of single-digit performances in Death Valley last weekend, had 14 at halftime and finished with a team-best 16 points.
Center John Fraley continued his recent upturn with 14 points on 6-of-7 seven shooting. Meanwhile, reserve forward Will Triggs continue his emergence, also going 6-of-7 from the floor for 12 points. He tied Fraley for the rebounding lead with seven.
What You Should Know
The Series: This is the 114th meeting between the two OVC rivals, Austin Peay and Murray State, with the Governors trailing, 72-41. The Govs won this season's earlier meeting, 66-64, in Murray to snap the Racers' 25-game home-winning streak. Justin Blake came off the bench to nail five three pointers as the Govs built a 15-point second-half lead before to holding on late. B.J. Jenkins missed a potential game-winning three-point attempt at the buzzer. Blake finished with 15 points for APSU while Isaiah Canaan and Isacc Miles each had 14 for Murray State. APSU owns a 12-10 lead in the series since 2000-01.
What A win Would Mean: The Govs would rise to six games above the .500 mark at 16-9 before facing Tennessee Tech, Monday night. It would give the Govs a threegame home winning streak. It would make the Govs 10-3 in the OVC. The Govs would remain in first place in the OVC standings. It would make the Govs 2-0 in February. It would give the Govs an 8-2 home record. It would give the Govs a 5-1 OVC home record. It would improve the Govs to 42-72 all-time in the series. It also would be Dave Loos' 429th career college coaching win and 347th APSU victory, leaving him three shy of 350 league victories. It would improve Dave Loos to 20-28 all-time against Murray State. It also would improve Loos to 7-4 all-time against Murray State coach Billy Kennedy.
What A Loss Would Mean: The Govs would drop back to five games above the .500 mark at 15-10. It would drop APSU to 9-4 in the OVC. It would allow Murray State to split the regular-season series. It would drop APSU to 41-73 all-time in the series. It would be Dave Loos' 339th all-time loss and 286th APSU defeat.
Next Game
Monday, February 7th at 7:00pm
Eblen Center, Cookeville, TN – Tennessee Tech has got the Govs' number, at least in the last two meetings. In first-round OVC tourney basketball play a year ago, Kevin Murphy hit a gamewinning three pointer at the buzzer for a 68-65 decision. Then in Clarksville last month, it was Zac Swansey who hit a game-winning three pointer with 1.2 seconds left to lift the Golden Eagles to a 71-68 verdict. Four Golden Eagles are averaging in double figures, led by Kevin Murphy's 15-point per game average. Swansey is ranked in the nation's Top 10 in assists (6.6 apg).