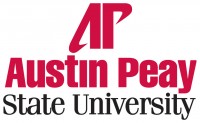 Clarksville, TN – The next Provost Lecture Series at Austin Peay State University will explore performance anxiety/stage fright as a nemesis in the lives of some professors and students.
Dr. Thomas King, professor of music, will present "Weak Knees? Sweaty Palms? The Anxiety Doctor Can Help" from 3:00pm-4:30pm, February 10th in the Morgan University Center, Room 303. The event is free and open to the public.
In 1988, King joined the APSU Department of Music as assistant professor in voice and opera. He has degrees from the University of Kansas, Indiana University and University of Mississippi, as well as a performer's certificate in opera from the Mozarteum Music Conservatory in Salzburg, Austria.
King performed in Germany on the opera stages for five years and in the U.S. for the last 40 years. At the American Institute of Musical Studies in Graz, Austria, King taught for 25 summers and was the artistic director of the institute for seven years.
His doctoral thesis topic is "Performance Anxiety in the Undergraduate Singer." He has given many talks on stage fright in America and in Europe to different groups, not just musicians.
Since coming to APSU, King has performed 600-plus times throughout the southeast and midwest and in Europe and even "tried to get stage fright" in one concert by allowing the audience at 7:15pm to vote on the pieces he would then immediately perform at the 7:30pm concert.
He and his wife, Dr. Vicki King, piano professor at Tennessee State University, have performed together for more than 40 years.
His professional and community affiliations include Phi Mu Alpha Sinfonia men's music fraternity, College Music Society, National Association of Teachers of Singing, Sons of the American Revolution and Urban Ministries.
The Provost Lecture Series seeks to foster a spirit of intellectual and scholarly inquiry among faculty, staff and students. The program will be used as a platform for APSU faculty members who are recent recipients of provost summer grants, who have been awarded faculty development leaves and who have engaged in recent scholarly inquiry during sabbatical leaves.
APSU faculty members with recent research of acclaim also will be given a platform within this series. In addition, other faculty members of local or widespread renown will be invited to lecture within this series.
For more information about the Provost Lecture Series, call Dr. Brian Johnson, assistant vice president of academic affairs at APSU, at 931-221-7992 or e-mail him at johnsonb@apsu.edu.