APSU Men's Basketball

Clarksville, TN – Murray State used a 16-2 early second-half run and never looked back as it defeated Austin Peay State University, 67-58, Saturday night in Ohio Valley Conference basketball action in Dave Aaron Arena.
The victory allowed the Racers, now 17-6 overall and 9-3 in the OVC, to wrestle away first place from the Governors, who fell to 15-10 overall and 9-4 in the OVC.
After the Governors Will Triggs completed a three-point play at the 17:53 mark of the second half to cut Murray State's lead to 28-26, the Racers responded with an Isacc Miles three pointer. Then Jeffery McClain scored on a layup to make it 33-26. After Josh Terry answered with a jumper, Isaiah Canaan nailed a three pointer to Murray State, an eight-point lead, 36-28.
Then the Governors committed turnovers on three of the next four possessions, as another bucket by Canaan, an offensive rebound and layup by Chris Griffin and four straight points from Donte Poole gave the Racers a 44-28 advantage with 13:08 remaining.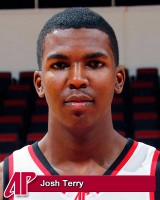 It proved to be too much for the Governors to overcome. APSU was able to cut the deficit to nine, 50-41, with 6:25 left on a Triggs layup but the Govs could not get any closer until the 2:18 mark when Caleb Brown connected on a layup, cutting the deficit to 56-49, but the Racers made 9 of-10 free throws in the final two minutes to put the game away.
Canaan led all scorers with 21 points, including a trio of three pointers, for Murray State while Miles added 15.
Josh Terry led the Governors with 17 points, going 8-of-11 from the floor while the freshman Triggs, making all six shot attempts, scored a career-high 15 points.
In a game where the statistics were at least partially deceiving, the Governors outshot Murray State 50 percent (25 of 50) to 41.2 percent (21 of 51). However, the Governors permitted 11 offensive rebounds while the Govs could manage just four as APSU was out-rebounded 34-27. In addition, the usually sure-handed Governors were charged with 14 turnovers compared to 12 by Murray State.
The Governors also connected on just two three pointers (13 attempts), one coming at game's end when the contest was over. APSU also made just 6-of-11 from the free-throw line while the Racers connected on 20-0f-28.
The Governors take on Tennessee Tech, Monday, February 7th at Cookeville, TN with a 7:00pm tipoff.
Photo Gallery
Box Scores
Murray State 67
 
 
 
Total
3-point
 
Rebounds
##
Player
p
fgm-fga
fgm-fga
ftm-fta
off-def
tot
pf
tp
a
to
blk
stl
min

02 

DANIEL, Ed 

f 

3-6 

0-0 

1-2 

3-5 

8 

2 

7 

1 

1 

0 

1 

27 

22 

MCCLAIN, Jeffery 

f 

4-6 

0-0 

0-4 

2-3 

5 

0 

8 

0 

0 

0 

1 

26 

00 

MILES, Isacc 

g 

4-7 

2-4 

5-6 

1-1 

2 

2 

15 

7 

3 

0 

1 

30 

01 

JENKINS, B.J. 

g 

0-5 

0-4 

4-4 

1-4 

5 

1 

4 

1 

2 

0 

2 

30 

33 

LONG, Jewuan 

g 

1-3 

0-0 

0-2 

0-1 

1 

1 

2 

1 

1 

0 

0 

17 

03 

CANAAN, Isaiah 

– 

7-14 

3-8 

4-4 

0-2 

2 

2 

21 

0 

3 

0 

1 

26 

11 

POOLE, Donte 

– 

1-5 

0-2 

4-4 

1-3 

4 

1 

6 

2 

0 

0 

1 

17 

12 

JACKSON, Shawn 

– 

0-1 

0-0 

0-0 

0-0 

0 

0 

0 

0 

0 

0 

0 

4 

32 

GRIFFIN, Chris 

– 

1-2 

0-1 

0-0 

1-0 

1 

1 

2 

0 

1 

0 

0 

5 

42 

ASKA, Ivan 

– 

0-2 

0-0 

2-2 

0-2 

2 

2 

2 

0 

0 

0 

0 

18 

TM 

TEAM 

– 

– 

– 

– 

2-2 

4 

– 

– 

– 

1 

– 

– 

– 

 

Totals………….. 

– 

21-51 

5-19 

20-28 

11-23 

34 

12 

67 

12 

12 

0 

7 

200 

 

41.2% 

26.3% 

71.4% 

 
Team summary:
 
FG
3FG
FT
 
1st Half: 
 

9-29 

3-11 

3-5 

 

31.0% 

27.3% 

60.0% 

 
2nd Half: 
 

12-22 

2-8 

17-23 

 

54.5% 

25.0% 

73.9% 
Austin Peay 58
 
 
 
Total
3-point
 
Rebounds
##
Player
p
fgm-fga
fgm-fga
ftm-fta
off-def
tot
pf
tp
a
to
blk
stl
min

20 

BAKER, Melvin 

f 

0-3 

0-1 

0-0 

0-1 

1 

2 

0 

1 

1 

0 

0 

13 

23 

TERRY, Josh 

f 

8-11 

1-1 

0-0 

0-2 

2 

4 

17 

0 

5 

0 

1 

31 

21 

FRALEY, John 

c 

1-2 

0-0 

0-1 

0-8 

8 

3 

2 

2 

0 

1 

0 

33 

03 

BROWN, Caleb 

g 

4-9 

0-3 

2-2 

0-1 

1 

2 

10 

9 

3 

0 

1 

30 

12 

EDMONDSON, Tyshwan 

g 

3-15 

0-6 

1-2 

1-1 

2 

5 

7 

1 

1 

0 

1 

31 

04 

WILLIAMS, Marcel 

– 

1-1 

0-0 

0-0 

0-2 

2 

1 

2 

0 

0 

0 

1 

7 

05 

CALDWELL, Tyrone 

– 

1-1 

0-0 

0-0 

0-0 

0 

0 

2 

2 

3 

0 

1 

10 

10 

TRIGGS, Will 

– 

6-6 

0-0 

3-3 

2-5 

7 

2 

15 

0 

1 

2 

0 

27 

32 

BLAKE, Justin 

– 

1-2 

1-2 

0-3 

0-1 

1 

1 

3 

1 

0 

0 

1 

18 

TM 

TEAM 

– 

– 

– 

– 

1-2 

3 

– 

– 

– 

– 

– 

– 

– 

 

Totals………….. 

– 

25-50 

2-13 

6-11 

4-23 

27 

20 

58 

16 

14 

3 

6 

200 

 

50.0% 

15.4% 

54.5% 

 
Team summary:
 
FG
3FG
FT
 
1st Half: 
 

11-23 

0-5 

0-0 

 

47.8% 

0.0% 

0.0% 

 
2nd Half: 
 

14-27 

2-8 

6-11 

 

51.9% 

25.0% 

54.5% 
| | | | | |
| --- | --- | --- | --- | --- |
| Score by Periods |  1st   |  2nd   |  Total  |   |
| Murray State   | 24  | 43  | 67  | Record: (17-6, 9-3 OVC)  |
| Austin Peay   | 22  | 36  | 58  | Record: (15-10, 9-4 OVC)  |
Officials: Scott Johnson (R), Barry Mathis, Steve Divine

Technical fouls: Murray State-CANAAN, Isaiah. Austin Peay-None.

Attendance: 4843