Written by U.S. Army Sgt. 1st Class Paula Taylor
Task Force Bastogne Public Affairs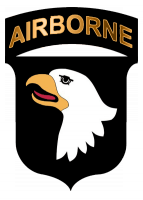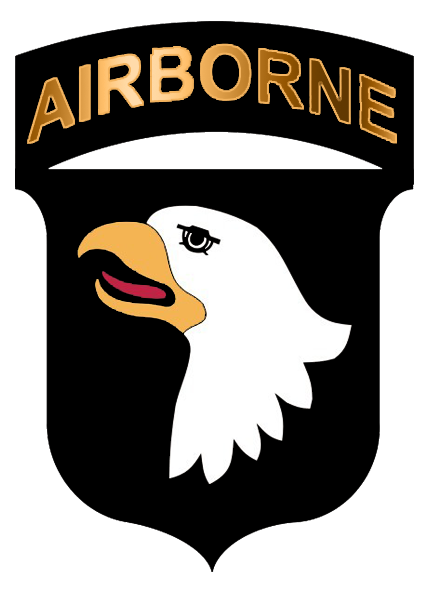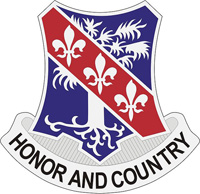 Nangarhar Province, Afghanistan – He grew up in the small town of Pearcy, AR, in a family of five and, as a teen, he found his love for music and has been playing, song writing and entertaining ever since.
His name is U.S. Army Cpl. Jamie Gold and he's an all-wheeled vehicle mechanic assigned to the 426th Brigade Support Battalion, 1st Brigade Combat Team, 101st Airborne Division.
"The first real interest in playing music was when I went to a football game, and I told my mom I would like to play music," recalled Gold. "I heard the high school band play at halftime and that is when it all started."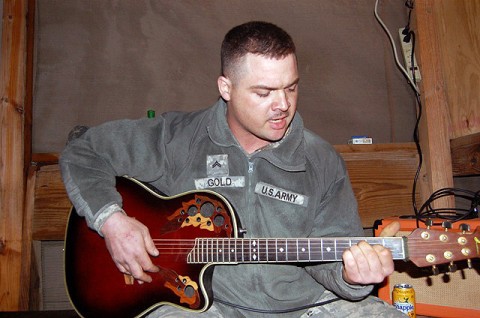 When Gold and his identical twin brother Jimie were given the option of buying a car or buying instruments, the choice for them was simple.
"We got some money for a car and bought a Memphis bass guitar and a five-piece CBMAX drum set for $600.00," said Gold. "I started out with the bass guitar. She was my baby, and her name was The Rebel, that was the sticker that I put on it. It was perfect for the crimson red color of the guitar."
After high school, Gold met who he calls "the woman of my dreams," Misty Burks, in downtown Hot Springs, AR. They dated for a year and married, September 22nd, 2001, just 11 days after the NY city twin towers came crashing down. In January 2003, he joined the U.S. Army.
"Ever since then, she has been supporting me in anything and everything I do," bragged Gold.
Gold, 30, has completed three tours in Iraq and is finishing his first tour in Afghanistan. And, like many service members, the hardest part of any deployment for Gold is saying goodbye. Sometime during the middle of his second tour, Gold began writing one of his favorite songs, "Coming Home".
"I kept thinking of all the times I had to leave my wife, either for deployments or (rest and recuperation leave) while being deployed," said Gold. "It is easy to deploy but not so much when it comes to saying goodbye."
Gold remembered what it felt like standing there with Misty before getting on the plane bound for the battlefield. It was that feeling of sadness that led him to write the song for her.
"I would look around, seeing the other Soldiers with their Families, seeing the expression on their faces, watching them hold each other as I was holding my wife and not wanting to let go," Gold recalled. "I knew I had to go to get my mind ready for the long deployment. It is a hard thing to do, to pull away knowing that you may not make it back.
"That is one of my biggest fears, but it comes with the job," Gold continued. "It relieved my wife knowing the training I got from the unit and me having faith in my abilities to do my job. She would tell me, 'You come home to me.' I couldn't look at her straight in the eyes. I had to be strong. I told her, as I was holding feelings back, 'I am coming home to you.'"
The song, Gold said, is a combination of emotions and experiences from all three deployments in Iraq. The first deployment, he said, was the most difficult but he's grateful to have Misty and the love and support she gives him. The first verse of the song, although written for the two of them, is something that many military Familes can probably relate to:
1st Verse
Let me tell you a story
About a soldier who went to war
He loved his family
But he could not stay anymore
As he walked toward the jet plane
As he waved goodbye
A tear dropped from his eye
He began to cry
Chorus
When I told you I love you
I meant forever, forever
And I'm coming home to you
When I told you I love you
I meant forever, forever
And that's the truth
2nd Verse
He knew that he'd miss her
And she'd miss him too
It's going to be hard
He's got a job to do
Don't you worry
Don't you be so sad
I'll be here waiting
'Til you get back
(Chorus)
And I'm coming home to you
"It is slow but strong," said Gold. "There is a lot of finger picking and a lot of emotion. It is somewhat of a duet. It is one of the most patriotic songs that I have ever written."
Misty, who describes her husband as a caring, loving, sweet guy, said the first time she heard "Coming Home" she couldn't help thinking, "He is singing about what we go through when we go through a deployment."
"It is a beautiful song, and I am really proud of him," she said. "He has a way that can make me smile or laugh. I feel safe when he is near. He is the type of guy who would give you the shirt off of his back if you needed it. He loves writing and playing music."
Gold has written more than 30 original songs since picking out that first guitar, the one he called The Rebel. The songs and the music help him relax and ease the stressors in life, while the lyrics he writes help keep his memories fresh.
"Well, some people who have problems that they don't know how to deal with, especially with depression or anything that has to do with life's troubles, usually go to the alternative of drinking," said Gold. "I don't do that. I pick the guitar up and start playing my favorite songs or just write down what I am feeling. It helps me when I think back about how I grew up."
Gold admits that although he loves his Family very much, he didn't have a role model in his dad when he was growing up due to his father's trouble with alcohol, which is another reason why using music as an alternate stress reliever has proven to be a good choice.
"He had a problem controlling himself when he was drinking alcohol," Gold explained about his father. "An alcoholic is something I never want to be. I control what kind of person I want to be. So far, I think I have done a good job. Being in the Army while being deployed causes a lot of stress—some good and some bad. Fighting for your country, worrying about your wife at home or worrying about your Family are the good and bad stresses for me. I use music to wind me down after a long day at work."
So whether Gold is sitting outside playing guitar on Forward Operating Base Fenty in eastern Afghanistan or whether he's just relaxing in his room writing poetry, he said he feels much better after he's done, like a weight has been lifted off his shoulders.
"I love my job and my Family," Gold beamed, "but music is my other love. It lets me give up my emotions when life may seem to be too much to bear. So instead of drinking my sorrows away with a bottle, I write down what I am feeling or what is on my mind, then I pick up my guitar and write a song. Writing words and playing music are my therapy, as is spending time with my wife when we're together."
Gold, who launched a website to highlight his band's music and songs, is scheduled to return to Fort Campbell, KY, in the spring. Until he does, he'll keep picking at his guitar strings and pulling on Misty's heart strings.
"Being in Afghanistan for the first time is a different beast, but one thing I focus on is getting home to my wife," said Gold. "Misty, I love you!"