Clarksville, TN – Clarksville Finance Commissioner Ben Griffin and Senior Accountant Deborah K. Johnson were among the more than 90 municipal finance officers to be awarded the Certified Municipal Finance Officers (CMFO) certificate on January 27th in Nashville, TN.
The graduating class included 97 people representing 86 cities and one utility district. These individuals completed a two-year program that consisted of 11 courses and exams covering eight different topics.
The CMFO certification was awarded to each individual by Justin P. Wilson, Comptroller of the Treasury.
Speakers at the ceremony included Wilson; Director of Municipal Audit Dennis Dycus; UT Vice President of Public Service Dr. Mary Jinks and UT Municipal Technical Advisory Service (MTAS) Finance and Accounting Consultant Dick Phebus.
The CMFO program was developed after the state legislature passed a law that required certain municipal finance officers to be certified. MTAS worked with assistance from and review by the State of Tennessee Comptroller's Office to develop the program objectives and content. This certification program is at the forefront of programs nationwide that focuses on the role of the municipal finance officer.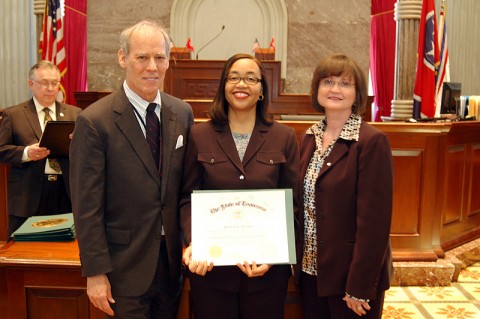 "MTAS would like to express our sincere congratulations to the first class of Certified Municipal Finance Officers (CMFOs)," said MTAS Executive Director Steve Thompson. "We applaud each individual's commitment to the program and are very proud of their achievements. The purpose of this program is to advance the knowledge and skills required of municipal finance officers in today's complex financial environment."