APSU Men's Tennis

Clarksville, TN – Despite the cold weather outside, Austin Peay State University men's tennis team hosts Southern Illinois in a 2:00pm, Friday match indoors at the Governors Tennis Center.
Winter weather has plagued the Clarksville area, but with the indoor facility typically home to Govs tennis through the early part of the season, the weather effect has been minimal. If road conditions allow the Salukis to get to Clarksville, it will be the Govs third indoor match.
"It's been difficult to train this week because of the snow," head coach Malik Tabet said. "But I feel like our guys are focused on what they need to be doing and really looking forward to good competition tomorrow."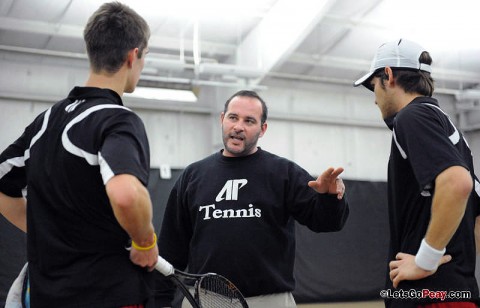 Austin Peay was recently picked to finish fourth in the Ohio Valley Conference's preseason poll with two players – sophomore Henrique Norbiato and freshman Jasmin Ademovic – ranked in the individual preseason top 10. Those two have alternated at playing No. 1 singles for the Govs with Norbaito most recently suffering a three-set loss to Lipscomb at the position.
Ademovic, meanwhile, went 1-1 at the top spot, earning a road win at Chattanooga, but falling against Georgia State. Against Lipscomb, Ademovic played at No. 2 and was one of five Govs to earn singles wins. Tabet is still searching for the right positioning at the bottom of his lineup as well, with freshman Joao Pagan and sophomore John Storie swapping Nos. 5 and 6.
"I'm not sure of the lineup," Tabet said. "I'm going to study the match and see what happens tomorrow. The fact that we have three solid players on top makes it hard to tell who is going to be No. 1, No. 2 and No. 3. It's nice to be able to match up our players against their lineup."
Much-needed doubles improvement is an offseason goal that has been fortified through three dual matches. Sophomore Sean Bailey – who plays No. 3 singles – and Norbaito are perfect at No. 1, while Ademovic and freshman Remi Calleja – who plays No. 4 singles – are also perfect at No. 2. Pagan and Storie, meanwhile, at No. 3 doubles have only one loss to their credit.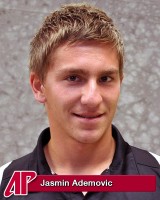 Southern Illinois (1-0) won its season opener, 6-0, at Morehead State. The match opened with the singles portion and with SIU winning the top six, the doubles play was unfinished. The Salukis are a young team made up of four freshman, three sophomores, a junior and a senior. However, at the Missouri Valley Individual Championships, five Salukis advanced to the semifinals in singles play.
"I felt that they had a strong team when they played in our fall tournament," Tabet said. "It's going to be a good challenge for our guys. They always put a good team together in the spring."