Clarksville, TN – If you are tired of the snow and the cold, come join us Sunday for some Celtic music, sure to warm your soul. Red River Breeze plays a mixture of traditional folk music, primarily Celtic, Renaissance and Old-Time American. The music is all instrumental and is usually played acoustically (no amplification) which allows the group's sound to be pleasant to listen to and very melodic.
Red River Breeze was created around 1999 when Stephanie Taylor began playing Celtic music on recorders and penny whistle with guitar accompaniment in local restaurants and coffee shops in Clarksville, TN – a dream she had had for many years. When Stephanie "discovered" the hammered dulcimer in 2004, the instrument quickly became her primary interest and the band as it exists today began to grow with the addition of fiddles, mandolin and upright bass. Current members are: Sarah Clark on penny whistle and recorders, Byran Dumas and Melanie Beck on fiddle, David Elder on mandolin, Dixie Jones and David Magers on guitar, and Steve Jones on upright bass.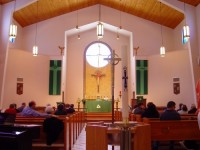 Red River Breeze's first CD, "Friday Night Favorites", was recorded in May 2006 with Stephanie, Sarah, Byron, David Elder, Steve and Dixie. The band's second CD, "Morgan's Song", was recorded in October 2009 with the current group of eight members. Both CDs are available for purchase.
Come hear this home-grown Clarksville group at Grace Lutheran Church, 2041 Madison Street, at 4:00pm, Sunday, February 13th. As always, concerts are free and open to the public.
For more information, contact the church office at 931-647-6750.