APSU Women's Basketball

Clarksville, TN – Austin Peay women's basketball team ends its three-game homestand when it hosts Tennessee State in a 5:15pm, Saturday, Ohio Valley Conference contest at the Dunn Center. The game also is the Lady Govs "Pink Zone" contest as part of the WBCA's cancer awareness initiative.
The Lady Govs are unbeaten during their current homestand, posting a 69-59 victory against Murray State, last Saturday, for its second straight win. Austin Peay used a strong defensive effort to hold Murray State to 31 percent shooting, including just 23 percent from three-point range. Offensively, the Lady Govs saw five players score 10 or more points for the first time this season.
Junior Whitney Hanley led that offensive charge with 19 points and seven rebounds, leading the team in both categories for the second consecutive game. The Lady Govs forwards enjoyed the night as sophomore Meghan Bussabarger (12 points), junior Jasmine Rayner (10) and senior Dalila Thomas (10) each reached double-digits. Senior Brooke Faulkner chipped in 10 points.
Tennessee State has won two of its last three outings, including an 81-71 non-conference victory against SIU Edwardsville, Tuesday. The Lady Tigers won the game at the free-throw line where they posted an impressive 28-of-35 (80 percent) effort while the Cougars made 16-of-24 (66.7 percent). The Lady Tigers split their two conference games last week, defeating Murray State (73-70) before falling to UT Martin (64-70).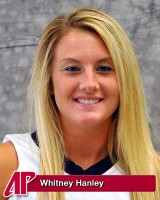 Austin Peay won the season's first meeting between the two teams, a 60-45 decision on January 15th in Nashville. The Lady Govs used a 19-3 second-half run to build a comfortable lead with six minutes remaining. During that stretch APSU's defense limited Tennessee State to 1-of-8 shooting while forcing seven turnovers.
Bussabarger led the Lady Govs with a 12-point, 10-rebound double-double effort. Foster led Tennessee State with her own 13-point, 11-rebound double-double performance.
Key Notables From Lady Govs vs. Murray State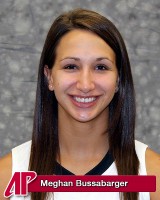 Whitney Hanley picked up where they left off Thursday night scoring and rebounding as she again led the Lady Govs with 17 points and seven rebounds.
For the first time this season, five Lady Govs scored in double figures in the same game: Hanley 19, Rayner 12, Faulkner 10, Thomas 10, Bussabarger 12.
Nicole Olszewski scored just six points, but again filled in the box score in other areas, finishing with seven rebounds and a team-best four assists.
The Lady Govs trailed for a total of 55 seconds in the contest. They never trailed in the first half and only briefly lost the lead twice in the second half.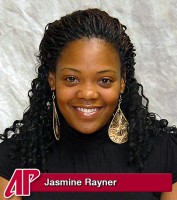 The Lady Govs shot 82 percent from the free throw line on 19-of-23 shooting. It was their best effort at the line since an 83 percent outing at UAB (January 2nd). The Racers also shot well from the line, shooting 87.5 percent (14-of-16) on the night
For the ninth-straight game the Lady Govs grabbed at least 10 offensive rebounds, but scored just nine second-chance points
The 11 turnovers committed by the Lady Govs were their fewest since committing only nine at Pittsburgh (December 28th).
Austin Peay forced Murray State into 16 turnovers and scored 17 points off those miscues.
Next Up: Jacksonville State
Austin Peay begins its final regular-season road trip when it travels to Jacksonville State for a 7:00pm, Thursday contest. The Lady Govs won their third consecutive game in the series with a 65-54 victory, January 22nd. Austin Peay holds an 11-6 advantage in the all-time series but is just 3-5 at Pete Mathews Coliseum.
Next Carrie Daniels Show, Wednesday
The Carrie Daniels Show will take next week off due to the team's travel to Jacksonville State. It will return with a 6:00pm, Wednesday, February 23rd show live from Edwards Steakhouse on Franklin Street in Clarksville.
Hosted by Brian Rives for the third consecutive season, the show will air live on WVRY 105.1 FM and be simulcast over the internet at www.LetsGoPeay.com.