Written by U.S. Army Sgt. Amanda Jo Brown
Task Force Phoenix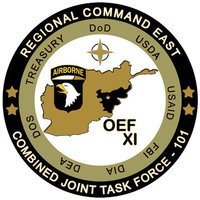 Nangarhar Province, Afghanistan – The DUSTOFF Association's motto is "dedicated, unhesitating support to our fighting forces."  This Task Force Phoenix MEDEVAC Company displays this support every day in support of Operation Enduring Freedom.
Company C DUSTOFF, Task Force Phoenix, 10th Combat Aviation Brigade, 10th Mountain Division, had displayed their duty, selfless service, and personal courage February 3rd when they evacuated a wounded Soldier from an area under fire from the enemy.
"Without hesitation, the crew launched into a known engagement area to retrieve a fallen comrade. In talking to the crew after the incident, each of us identified having a sense of fear seeing the battle unfold and knowing we would have to fly into the heart of it to retrieve the Soldier," said U.S. Army Capt. Andrew Wilson, a native of Edmond, OK, one of the pilots that day. "However, the second we were cleared in for extraction, we all pushed aside those feelings and were focused on the task at hand."
The medvac crew assessed the situation before extracting U.S. Army Spc. Ronnie Vargas, a wounded Soldier with Co. C, 2nd Battalion, 327th Infantry, TF No Slack, 2nd Brigade Combat Team, 101st Airborne Division. Vargas and his unit had been bogged down by enemy fire on top of a ridgeline that day. As the battle continued, the medevac crew found themselves making difficult decisions.
U.S. Army Chief Warrant Officer 3 Richard Ernst, a native of Islip, NY, was the pilot in command. Ground forces guided Ernst to a landing zone to pick up Vargas; however, he was unable to land on the confirmed area due to difficult terrain.
The aircrew remained in the air and identified a more suitable location to attempt a landing. After confirming the location with ground troops, Ernst again attempted to land. However, as they approached the new landing area, the aircraft began taking rounds. Ernst immediately broke off to reassess the situation. 
U.S. Army Sgt. Elena Romero, the flight medic from Vernon, NJ, received minor shrapnel wounds on her left arm and near her left knee.
"While we continually asked about her condition, she adamantly reiterated that she was okay," said Wilson.
The crew received word that the original landing zone had been cleared for landing. Ernst flew a second time to the original landing zone.
Once there, he determined he would not be able to do a complete landing. He also determined using the high hover for a hoist rescue was too risky. The crew decided the best option to extract Vargas was a low hover. This required Ernst to hover approximately five feet from the ground.
"We do not normally hover to pick up anybody, but it was the only option to get the patient and not sustain loss of aircraft or injury to the flight crew," said U.S. Army Sgt. Abe Cutsinger, the Black Hawk crew chief.
U.S. Army Spc. Brit Jacobs, a combat medic with TF No Slack, had been treating Vargas while they waited for the medevac.
"He was just so happy (when the aircraft arrived)," said Jacobs, a native of Sarasota, FL "He was joking around and stuff.  He was really calm for the situation." 
When DUSTOFF arrived, Jacobs helped Vargas up to the aircraft. 
"I could hear rounds pinging off of the aircraft," said Jacobs. "I had it in my mind that I was going to get hit." 
The wind from the helicopter's rotors made getting Vargas into the aircraft difficult. Cutsinger and Romero struggled to pull Vargas into the aircraft by his hands. Vargas dangled, fighting to get into the aircraft for at least a minute.
"You could see him giving everything he had to get into the aircraft," said Jacobs. "He never gave up and was determined to get in there."
With help from Jacobs, the DUSTOFF team pulled Vargas inside. Ernst took flight as soon as Vargas was inside and cleared the area.
"(Vargas) was very thankful and in high spirits once on board the helicopter," said Cutsinger, a native of Copperas Cove, Texas.
Despite her own wounds, Romero administered aid to Vargas. She bandaged the wounds and determined Vargas was stable enough to make the flight to Jalalabad Airfield.
"Sgt. Romero had the capability and supplies to stabilize him enough to return him to JAF," said Wilson. "If she, or any other flight medic, is unable to sustain a (patient), we will fly (the casualty) to the nearest forward surgical team."
The DUSTOFF crew removed Vargas from the hostile area and took him safely to Jalalabad Airfield. Romero accompanied Vargas to the forward surgical team where he received further care for his wounds.
"The medevac team was very professional," said Jacobs, "They were trying everything possible to get to him. They were pretty brave and didn't back out – even under fire. They were heroes."